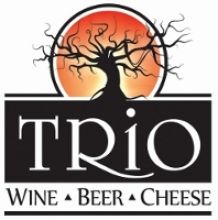 Welcome to Trio!  It is our mission is to provide you with an environment that is simple, elegant, and immediately comfortable.
We've gathered vast selections of wine, beer and cheese from around the world. From quality and value, to high-end and exceptional, not to mention "Wow, I've never even heard of that one!," we've got you covered. Our knowledgeable staff shares a passion for our products and a desire to assist both the novice and our more seasoned clientele in making their selections.
What goes better with the tasting experience than cheese? Not much. Let our Cheesemonger provide you with a sample of one of our 50+ artisinal cheeses. They run the gamut – mild, wild, cow, sheep or goat. Or select a cheese plate, grilled panini, salad, or maybe just a "small plate" from our Bistro Menu.
Our mezzanine lounge is set up perfectly for private events, parties, gatherings or for just relaxing… There are two lounge areas with leather sofas and seats and a pool table.
So, let us be your destination. While away a lazy afternoon, unwind after a long day, get together with some friends for the evening, or just drop on by.
We'll look forward to helping you Taste the World!