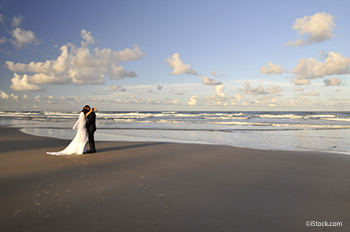 If you're considering holding an Outer Banks wedding, then no doubt you're familiar with the natural beauty this unique setting provides. But you might not know that Outer Banks weddings rank top among destination weddings in this country. This means several things for you. First, it means that you need to start planning your Outer Banks wedding at least a year in advance if it's of any size due to the competition for venues and vendors. It also means that, because of the popularity of such events here, you have a massive range of Outer Banks wedding professionals who can help with every aspect of your wedding, from the planning to the reception. Caterers can throw down a Southern barbecue or plate an elegant meal for 250 sit-down guests. Outer Banks wedding planners are plentiful ... and highly recommended! It helps tremendously to have an Outer Banks local to pull all the details together for you. Plus, they have local pull, so that photographer who said she was busy just might find the time if a specific planner calls her. The rental companies here have a big-city selection of supplies to create everything from a simple beach scene to a high style event, and because Outer Banks weddings are so plentiful, they're super efficient at delivery, setup and take down. Be aware that most of the best vendors and venues get hundreds of requests immediately following the wedding shows in January and March, so we can't stress enough how important it is that you start planning your Outer Banks wedding many, many months out.
Outer Banks Weddings: Small Towns, Big Style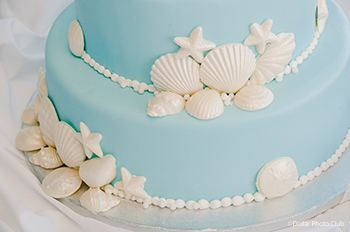 Don't be fooled by the small-town atmosphere on these beaches. As we said, the Outer Banks is home to world-class caterers, wedding planners and florists with style, bakers who create delicious, fabulous wedding cakes and talented musicians who can accompany the ceremony or liven up the reception. Outer Banks wedding venues range from opulent to simple -- quaint chapels (see Corolla weddings), designated wedding halls, unbelievable oceanfront houses built specifically with weddings in mind, public parks, lovely bed and breakfasts and fabulous gardens (see Roanoke Island weddings). And, of course there are miles of sandy beaches where many couples choose to say I Do. Spas are located up and down the Outer Banks that provide luxurious treatments to pamper the bride and her attendants before the big day. And locally owned shops and boutiques are the perfect places to shop for Outer Banks-inspired gifts.
An Outer Banks wedding is a memorable event for all those involved. Guests will love your choice of locale, and you'll love the friendly, small-town atmosphere and helpful, professional wedding service providers. Note that each area of the Outer Banks has its own charm. If you're familiar with the towns that dot the islands from north to south, you'll know that a wedding held on Roanoke Island will differ in style, surroundings and mood than one held on the beach in Nags Head or one on Ocracoke Island (see Ocracoke weddings). Likewise, a Duck wedding, where the town is cohesive and punctuated with shops and restaurants, will be quite different than one held on Hatteras Island, where the pace is slower and the surroundings more like the less developed northern Outer Banks (see Hatteras weddings). Get a jump start on your planning with our destination guides; just click on any of the tabs in the top nav bar.
Outer Banks Wedding T
urned Vacation 
Your guests will love using your Outer Banks wedding as an excuse for a vacation, and there are many choices of accommodations for housing out-of-town guests. Some accommodations can perform double-duty as a location for some of the wedding events, like the rehearsal dinner or even the reception. Inns, hotels and some rental homes can provide space for gatherings. Renting a large, oceanfront home is a big trend in Outer Banks weddings. No longer are the palatial beach homes located exclusively in Corolla and the Nags Head area (see Nags Head weddings); now there are many spectacular homes in every town, and the 4WD area north of Corolla is especially popular for receptions with several hugely huge houses there. If you rent a large home, you can house the wedding party, hold the ceremony on the beach in front of the house, then head poolside for the reception. Most of the time, you have to get a special contract with the rental company to do this, so make sure you check. If you envision a village atmosphere for your wedding where guests can easily walk or bike to entertainment and restaurants and stay in B&Bs and inns that are all close together, Roanoke Island and Ocracoke are where you'll want to be. Duck can claim one of the most beautiful resorts on the Outer Banks where many a wedding ceremony takes place every year (see Duck weddings).
A word about Outer Banks weather: It can be unpredictable. If you're planning any portion of your big day to take place outdoors, have a rain plan so you won't be disappointed if the weather doesn't cooperate. Some couples rent a tent from their caterer or a rental company to ensure the reception won't be hindered by rain or wind.