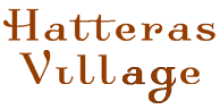 Hatteras Village is located on Hatteras Island, one in a chain of islands on the North Carolina coast comprising the famous Outer Banks.  Since arriving here in the 1700s, the people of Hatteras have depended on the natural environment for their livelihood.  Evolving from a small commercial fishing village to a major Gulf Stream sportfishing attraction, Hatteras continues to rely on its fertile fishing grounds to support its economy.  Surrounded by this gift of nature, Hatteras Village today is a world famous tourist attraction with a unique history and culture.  Her pristine beaches and waterways  provide the perfect backdrop for any vacationer's dream. Today the Village still maintains much of the charm of her past while providing the comforts of the present as a world class cultural and vacation destination.

Two important trails transect the Village....one is The Outer Banks Scenic Byway. 
Centered around a rich village culture, the Outer Banks Scenic Byway is a must for any traveler looking to escape to a time of front porch talks and simple maritime living.   On the byway at Hatteras Island, a "beach vacation" landscape with outstanding recreation, there are seven villages surrounded by national seashore of which this village is one. Historic settlement patterns are visible in ancient live oaks, harbors, old houses, family cemeteries, simple churches, family stores, fish houses, and 19th-century life-saving stations.

The other trail is A Civil War Trail which is part of a national network that commemorates that tragic time in our Nation's history.