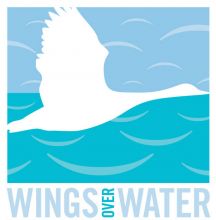 Wings Over Water Wildlife Festival is one of the premier wildlife festivals in the U.S. Over 100 birding, paddling, photography, art and natural history trips, tours and programs offer something to interest everyone. Participants come from all over America and the world to enjoy the beautiful scenery and the amazing wildlife. The main body of the festival is held in late fall, when the potential for mild weather exists, when there is less traffic and lower lodging rates.
For the first time, Wings Over Water is offering encore festival trip dates especially designed to provide better possibilities of seeing larger flocks of migratory birds & waterfowl.
Wings Over Water takes place over a large 5 county northeastern North Carolina area which includes 6 National Wildlife Refuges- Alligator River, Pea Island, Pocosin Lakes, Mattamuskeet, Mackay Island and Currituck National Wildlife Refuges. The festival has reasonable fees per program. Small group limits are maintained, especially on birding & paddling events, so that participants can easily get instructions and ask questions. There are both indoor and outdoor programs. Trip leaders from across North Carolina and the region are experts in their field. Participants come back year after year because of WOW's high level of leader expertise. (Go to the WOW leader page to see photos and read bio pieces about each leader).
Part of the Atlantic Flyway, there are over 400 species of birds that live or migrate through the region. Besides being a haven for birds, participants in Wings Over Water Wildlife Festival have the potential of seeing a variety of reptiles, amphibians and mammals, including black bears, alligators, and the endangered red wolf.
Wings Over Water is a fund raising event for Coastal Wildlife Refuge Society, a non-profit group existing to support regional National Wildlife Refuges. CWRS provides educational grant money for schools. And, it helps maintain trails, signs, refuge structures and other refuge projects. Also, CWRS provides volunteers and staff essential to the maintenance and operation of regional National Wildlife Refuges visitor centers.
Go to the registration link and follow instructions to register on-line. Call with questions, (252) 216-9464.
A full list of scheduled events can be found on their website.