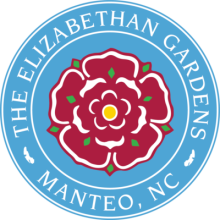 Formal Gardens near Manteo, NC on Roanoke Island
Fanciful and elaborate gardens were kept to entertain Queen Elizabeth I during her reign. The Elizabethan Gardens is a project of the Garden Club of North Carolina and was created for your enjoyment and as a living memorial to the time when Sir Walter Raleigh's lost colonists lived in this very place on Roanoke Island over 400 years ago.
Inside the brick-walled gate you'll find a wonderful collection of Renaissance statues, a sound-front Elizabethan-gazebo, a sunken Elizabethan knot garden – all adorned by an ever-changing palette of year-round color from hydrangeas to native plants, perennials and camellias on 10 sound-side acres.
Year-long highlights include beautiful winter-time camellias, spring bulbs, colorful summer landscapes from hydrangeas to crepe myrtles, autumn hues of ornamental grasses and salvia, as well as seasonal events like an Outer Banks "Easter Eggstravaganza" and "WinterLights."