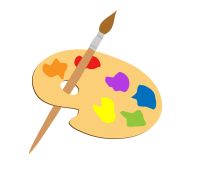 Creative Crafts is a mobile arts and crafts studio, where we bring the party to you!
We provide everything you need to create beautiful projects with easy step by step instructions.  Creative Crafts is perfect for girls night out, office events, fundraisers, church events, and we really love birthdays!
Amy Zwirko, our head Artist, enjoys every aspect of working at Creative Crafts. She patiently walks you through the process step- by- step, so that you get a beautiful result! 
Amy  has been a lifelong artist, from drawing on walls as a child, to obtaining a degree in Fine Art. Amy began her art business, Creative Crafts, in 2017.She since has painted with hundreds of happy painters and many that had never picked up a paint brush in their lives! 
Amy's art classes are created to be easy enough for even the most Novice artist! She keeps her classes light and fun and allows for lots of individual creativity. Working with seniors, kids, and adults, she finds that music, jokes, and silliness are some of the best parts of her classes! It helps keep the class light and everyone have a great time! 
Register for one of Amy's classes for your restaurant or private home today!