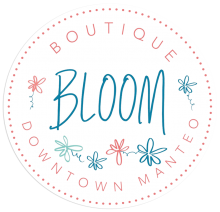 Downtown Manteo Shopping At Its Finest
Bloom Boutique is a highlight of downtown Manteo shopping, one of the most-loved Outer Banks destinations. Whether women discover Bloom by word of mouth among the locals or happy accident on a stroll through town, they make it a point to return again and again to see what's new in high-quality women's clothing and accessories.
Bloom stands out in Manteo shopping options for its appeal to a wide range of ages and sizes. Grandmothers, mothers and daughters alike can find reasonably priced clothing, jewelry, handbags and accessories for a variety of occasions. From athleisure and work-at-home comfort clothes to outfits for the office to dresses for weddings and events to fun fashions for going out with friends, Bloom offers unique styles that you won't see on anyone else.
Owner Tory Schollaert has years of retail experience and knows what her customers want and need. She specializes in easy to wear, comfortable, bra-friendly clothing in sizes from XS to XL. Brands her customers love include Kerisma, Joy Joy and Z-Supply, in addition to locally made jewelry. Soft, wearable textures and classic styles with a twist are her specialties. Bloom's welcoming atmosphere and personal-touch commitment to helping each woman feel confident and comfortable fits right in with the small-town charm of downtown Manteo.