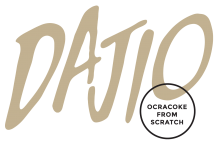 Dajio Restaurant in Ocracoke, NC
Owners Doug and Judy Eifert, invite you to visit Dajio Restaurant in Ocracoke, NC. Set in the heart of Ocracoke village in a restored building, you can expect an original, eclectic meal in a comfortable setting. Each day, Dajio's staff is passionately perfecting your dining experience. Whether it is the large organic garden in the backyard that helps to feed the restaurant in the summer or the friendly staff who can suggest just the right meal with a perfectly paired glass of wine, you will feel the care when you come in.

Dajio's menu changes with the seasons to ensure our guests enjoy the finest ingredients from the sea, farm or garden at the peak of their freshness. We focus on the sustainability of the food and the people who produce it and the result is undeniable. From masterful mains to mouth-watering daily specials, we invite you to come taste the difference for yourself. This is Ocracoke — from scratch!