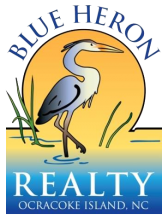 Ocracoke Island Vacation Rentals
Blue Heron Realty invites you to vacation in one of our Ocracoke Island rentals. We take great pride in our island home, this one-of-a-kind place on the North Carolina Outer Banks, known for the incomparable beauty of its land- and seascapes - and for the wonderful people who call it home.
Locally owned and staffed by well-traveled professionals, Blue Heron Realty is ready to help plan your perfect Ocracoke vacation. We will take as much time as needed to work with you to ensure your requests are met and matched to one of our many properties.
From the reservation process to your stay on the island, our most important goal is to make your time with us comfortable and worry free. Contact us today.