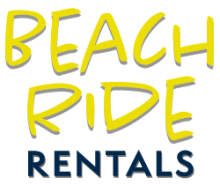 Outer Banks Off-Road Vehicle Rentals
You might be well aware of the thrill an off-road drive along Cape Hatteras National Seashore can provide, or maybe you're only just now being introduced to the idea. Either way, Beach Ride Rentals is here to outfit the beach-ride dreamer with the tools to do. If you're on the Outer Banks without the luxury of a 4WD vehicle, be glad you saved on gas getting here! An off-road cruise down the coast is a quick phone call away.
Take your pick: We offer an array of SUVs and open-top vehicles, including Jeep Cherokees, Jeep Wranglers, Chevy Blazers and Montero Sports. All of them are clean and in good condition. Most of them are equipped with rod racks, so don't forget to bring your fishing gear. You'll have the option of an automatic or manual transmission. To make things even easier, we'll provide the necessary permit, as well as useful maps and information about the area. Please make your reservation 96 hours ahead of time to ensure you get your top pick.
Make a day out of it! Everything you need for an unfettered off-road adventure is at Beach Ride Rentals located in the heart of Ocracoke.