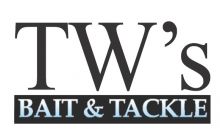 Outer Banks Bait & Tackle Shop
With locations in Nags Head and Kitty Hawk, TW's Bait & Tackle is on a mission to support and educate anyone on the Outer Banks with even the slightest interest in fishing. Whether you're a seasoned angler or you've never cast a rod, we've got the knowledge and inventory you'll need to get to where you're going next. 
We don't just love fishing - we live it! In addition to the tools you'll use to make the catch, we offer the apparel you'll wear doing it. Our shops are full of some of the finest outdoor clothing brands available, as well as an extensive collection of custom t-shirt and hat designs. What's more, we carry plenty of tempting accessories. Take the leap on a Yeti cooler or a nice pair of sunglasses. Or go smaller: Our selection of flags, stickers, decals and koozies goes on and on…
If you already have what you need, come brag to us! We love hearing about your success. Stop by either one of our locations to weigh your fish, or just to share your BIG fish story.