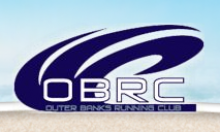 Fun for all Levels of Runners
The Outer Banks Running Club (OBRC) is a Division of the Road Runners Club of America and USA Track & Field, and is in its third year of service to the community. Our primary objectives are promoting running, track and field and cross-country, and educating the public to the benefits of running.
We offer weekly training runs, under the direction of club coach, Ariadna Vucinovic on (252) 207-5900. Ari leads the group in warm up exercises and helps members create personalized training programs, whether you want to start a running program, increase your mileage or speed or are training for a specific event.