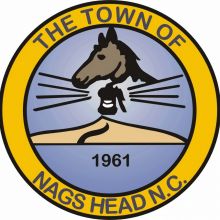 The Town of Nags Head is located on North Carolina's Outer Banks, a chain of barrier islands along the Atlantic Ocean, 90 miles south of Norfolk, Virginia.  A unique resort community, Nags Head takes pride in its clean water, low density of development, and abundant open spaces.  Its 11 miles of oceanfront and 6.5 square miles of area are home to a year round residential population of 2,800 and a summer population of approximately 40,000.  Nags Head enjoys average temperatures moderated by the surrounding waters, providing for year round enjoyment of the natural environment. 
Nags Head, from its earliest beginnings in the 1800's, has predominately consisted of single family cottages and a few small hotels and cottage courts.  Visitors to Nags Head can still enjoy the Town's several historic cottages, which are primarily located across from the Town's most significant landmark, Jockey's Ridge State Park.  The tallest natural sand dune system in the eastern United States, the park offers unparallel views of Nags Head from its heights.  The Town is also home to the Nags Head Woods Ecological Preserve, considered to be one of the best remaining examples of a mid-Atlantic maritime forest with deciduous hardwoods.  Finally, a thriving art community, inspired by Nags Head's cultural and historic heritage, complements the Town's character. 
Family operated businesses and a small town atmosphere still prevail, contributing to a certain charm and a slow, relaxed pace of life.  The Town has been, and still is, an annual vacation spot for countless number of families, making it the ideal "family beach".  Visitors to Nags Head enjoy widespread access to the beach and significant public parking at the Town's many public beach accesses. 
For more information, please visit www.townofnagshead.net or call 252-441-5508.