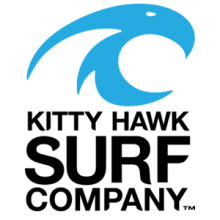 Premier Outer Banks Surf Shop
The staff of Kitty Hawk Surf Company feels privileged to be able to live on the Outer Banks, a beautiful and unique natural environment. We also appreciate the community of people who live and work on the Outer Banks. They are active people who enjoy the natural elements, and are willing to give back to the community in order to preserve the natural qualities that attracted us here in the first place.
Kitty Hawk Surf Company actively supports causes such as Surfrider Foundation, NC Coastal Land Trust, and Wings Over Water as well as community school and recreation programs. We are a proud member of the Outer Banks Chamber of Commerce, which is dedicated to making the Outer Banks a better place to live and work.
Kitty Hawk Surf Company strives to give back to the community that supports our business. We are involved in a number of annual events that supports the local community. See our calendar or feel free to ask our staff about more detailed information.
Kitty Hawk Surf Company is pleased to support the North Carolina Coastal Land Trust's Coastal Partners Program. You may contribute when you rent or take a kayak tour with us. Through the efforts Land Trust thousands acres of coastal land have been purchased from willing land owners and preserved.