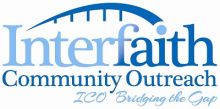 Interfaith Community Outreach promises to:
Ensure a caring and effective response to requests through our well-knit system of volunteers and networked partners. 
ICO volunteers promise to assist anyone in need, regardless of ethnicity, creed, sex or age.  
No denominational emphasis is made in any part of the ministry of this organization; rather, ICO freely responds in a caring manner to all who seek assistance.
Together we can provide one central location where coordinating efforts can be made to satisfy emergency requests, maintain the dignity of the person making requests, track the needs of our community and be sure that services, funds, energy and efforts are not duplicated and help those in need, such as the elderly, the physically challenged, the single parent and those who otherwise do not qualify for governmental assistance.