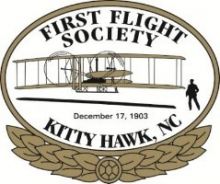 This organization celebrates the accomplishments of the Wright Brothers and helps educate the world about aviation! The Paul E Garber Shrine inductees, Scholarships and the annual December 17th Celebration in Kitty Hawk, NC contribute to the advancement of aviation.
Our primary mission is to memorialize Orville and Wilbur Wright, first in the world to successfully achieve powered flight in a heavier than air machine, on December 17, 1903 at Kitty Hawk, North Carolina.  First Flight Society invites and promotes visits to the Wright Brothers National Memorial, so all may see the birthplace of powered flight. First Flight Society contributes to the advancement of aviation through programs, activities, education and the arts.
First Flight Society was founded in 1927 as the Kill Devil Hills Memorial Association by North Carolina business and civic leaders who began an effort to preserve the original site of the Wright brothers' flights of December 17, 1903.
December 17, 1928, the 25th Anniversary of the world's first powered flight, the Kill Devil Hills Memorial Association held a special ceremony commemorating those historic flights at the birthplace of aviation.
Today, First Flight Society still serves its founding mission – and much more. Membership, programs, educational outreach, publications and scholarships were added over the years.