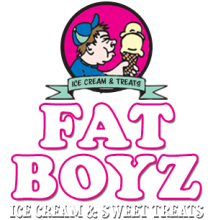 Nags Head Ice Cream & Sweet Treats
If you're looking for an Outer Banks local dessert favorite, look no further than Fatboyz Ice Cream & Sweet Treats! Serving ice cream treats, Fatboyz is the spot for to satisfy that sweet tooth on the Outer Banks. Located in the heart of the Whalebone District in South Nags Head, Fatboyz is the ideal setting to enjoy a frozen treat while soaking in the sun and ocean breeze. 
Our Nags Head ice cream offerings include flurries, milkshakes, cones and sundaes. You can choose from a big variety of mix-ins and toppings. We even have Pup Cups of vanilla ice cream so your furry family member can get in on the fun.
It might be a funny thing to point out, but we're so popular that we regularly have a long line in the summertime. But, no worries! That means that the tastiness of our ice cream and treats is well-known! Plus, the line moves very quickly, so you'll be at the front of it in no time.
Nags Head Ice Cream – A Family Tradition
We've been serving Outer Banks visitors for more than two decades. Our location in Nags Head makes us convenient for almost all northern Outer Banks visitors. Plus, we're right across the street from Jennette's Pier, a popular beach access, so it's easy to pop across the Beach Road for a cooling treat. We love seeing new people every year, but we get so excited (and honored!) when we see familiar faces come up to order who were here as kids and now are bringing their own children. It's great to be included in that annual family tradition of heading out for some ice cream at the end of a perfect summer day.
So grab the crew and get your Nags Head ice cream fix at Fatboyz Ice Cream & Sweet Treats. We look forward to serving you!