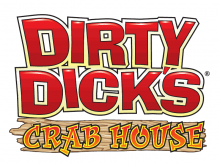 You can find Dirty Dick's at two locations on the Outer Banks – in Nags Head on the Bypass and on Hatteras Island in the same shopping center as Food Lion in Avon. Judging by the name, this might sound like a simple seafood shack, but Dirty Dick's is actually a nice restaurant with a fun-loving atmosphere and seriously good food. The menu pays homage to New Orleans and Louisiana cuisine with dishes such as jambalaya, po'boys and special gumbos. It also offers nuances of the East Coast, featuring a vast array of classic seafood favorites, including the biggest variety of crab preparations you've ever seen. Including Dungeness, Alaska king, lobster, blue & snow crabs. Their Nags Head location also has a buffet. Steaks, chicken, pork, burgers, ribs, salads, unusual sides, appetizers and sandwiches round out the offerings. Check out their popular t-shirts and other merchandise. 
Have a large party with you? Large parties are our specialty, on or off site. 
Don't forget to check out our popular t-shirts and other merchandise.