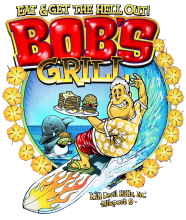 Serving Breakfast & Lunch - Don't miss our daily lunch specials!
---
Sit down, eat and then get the hell out at this popular and beloved Kill Devil Hills restaurant! Featuring giant hotcakes, fresh omelettes, fried oysters and more, Bob's Grill's breakfasts and lunches are not to be missed. The ingredients are fresh, the food is delicious and the atmosphere is relaxed and fun. As Kill Devil Hills restaurants go, Bob's Grill is a true original with a laid-back Outer Banks spirit. The staff at Bob's Grill carry on our founder's legacy of friendliness and fun. You'll want to start off your beach day here or take a midday surf break to try their phenomenal lunch. With daily lunch specials and fresh Outer Banks seafood, Bob's Grill has something for everyone. And you'll be hard pressed to find an Outer Banks restaurant with better Bloody Marys, sangria, screwdrivers and creamsicle mimosas. Fun and family-friendly, Bob's Grill is a favorite Kill Devil Hills restaurant for visitors and locals alike. Open seven days a week for breakfast and lunch in season, Bob's Grill offers large portions of good food in a fun setting.
Outer Banks Restaurant in Kill Devil Hills
Bob's Grill has been a go-to Kill Devil Hills restaurant since 1994. With their plate-sized pancakes, fresh-made hash browns, seafood burritos and Angus beef burgers, it's easy to see why.
"Eat and Get the Hell Out" developed as our slogan during popular and crowded lunchtimes as founder Bob McCoy would move through the crowds at his Kill Devil Hills restaurant urging lollygagging locals to get a move on so he could seat waiting customers. After you eat but before you get the hell out, be sure to pick up a Bob's Grill souvenir featuring their slogan.