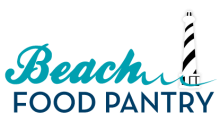 The Beach Food Pantry (BFP) was organized by a few local religious organizations in 1989. In 1992, the BFP incorporated. In 2004, we became an IRS Tax Exempt 501(c)(3) non-profit organization.
Over the years, the BFP has been located at St. Andrews by the Sea Episcopal Church and Holy Trinity in Nags Head; the Emergency Medical Services station in Kill Devil Hills; Southern Shores; and various locations in Kitty Hawk. In January 2013, we moved to 500 Sand Dune Drive, Kitty Hawk.
The BFP operates under a set of bylaws with our primary mission to help fight hunger and poverty of residents of Dare County by providing temporary assistance of food, and to establish other services as to alleviate hunger and poverty.
We have a 14-member Board of Directors, with a four-member Executive Committee, and a part-time Executive Director. We are supported by a 19-member local church and civic organizational structure which helps to staff the pantry, 30 volunteers who assist in picking up donations from retail stores, and nearly 500 total volunteers who support the Pantry through some form of volunteer service.  We also have numerous individual, organizational, business, religious entities, and corporations which contribute food and money to us regularly to help support our mission.
Along with donations from community food drives, religious organizations, businesses, philanthropic groups, and individual citizens, we purchase a large amount of food and other items from the Food Bank of the Albemarle and Dollar Tree. Once a month, we are supplemented with product from the State Nutritional Aid Program (SNAP).
Additionally, we receive meat, produce, baked goods, and other items a minimal per pound cost from the Southern Shores, Kill Devil Hills, and Nags Head Food Lions; Fresh Market in Nags Head; and the Kitty Hawk Walmart.
The people and families that we serve are given a minimum two-week supply of food based on family size.  We provide temporary assistance up to four times a year, with a minimum of 30 days required between visits.   Referrals need to be obtained from the Dare County Department of Social Services (DSS) or Interfaith Community Outreach (ICO).  For information on how to obtain assistance,click here.
We serve an average of 4,100 Dare County residents annually.  In 2014, we were named Outer Banks Non-Profit of the Year through the Outer Banks Chamber of Commerce Non-Profit of the Year Program.  We are an affiliate of Feeding America and the Food Bank of the Albemarle; and members of the Outer Banks Chamber of Commerce, North Carolina Center for Non-Profits, and NC Tech 4 Good.