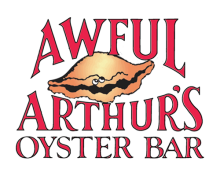 The Original Outer Banks Oyster Bar
Awful Arthur's Oyster Bar is the only authentic Outer Banks oyster bar, and is the place to enjoy sensational fare from the sea washed down with your favorite brew. We serve by the peck, pound and dozen, raw or steamed to perfection. Kicked back casual, down to earth friendly staff, and reasonable prices make Awful's the all-time favorite of locals and travelers alike. The restaurant features the Ouer Banks' only copper-topped oyster bar and one of the beach's only ocean-view lounges. The menu boasts oysters, shrimp, clams, crab cakes and crab legs.With lots of specials, appetizers, soups, salads, burgers, pasta, sandwiches, seafood platters and steaks everyone will find their favorites including the kids.
Awful Arthur's has received high accolades in the press — Coastal Living magazine named it "one of the top 10 oyster bars in the nation" and Esquire magazine recognized its steamed spiced shrimp. We have all ABC permits, accept all major credit cards and are open 7 days a week for lunch and dinner. We even have a take out window with picnic tables.
Awful Arthur's famous t-shirts and logo apparel have been spotted all over the world. They are readily available through the website and at the beach shop next door. There you'll also find ladies apparel, jewelry and beach-inspired home décor, and for your day at the beach we have body boards, beach towels, sand toys, snacks, beverages and ice. Stop by today and have some great food and lots of fun.