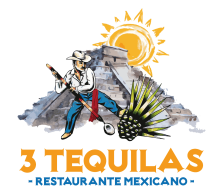 If you're looking for a restaurant with fresh food and flavors, then 3 Tequilas Restaurante Mexicano is your place! We provide food with an authentic taste suitable for the entire family.
With the many options of nachos, quesadillas, enchiladas, salads, fried rice, combos, chicken, seafood, fajitas, burritos, chimichangas, tacos and sides, 3 Tequilas is the perfect place for a fan of traditional Mexican food.  Not only do we have an array of options, but we also accommodate different diets with our selection of vegan and vegetarian dishes. 
Located in the heart of the Outer Banks, come celebrate with friends or just grab a bite to eat. We also have a full bar and plenty of outdoor seating for those wanting to enjoy the salt air. So, what are you waiting for?