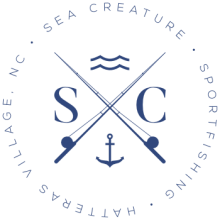 Good morning and welcome aboard the Sea Creature. We will be leaving the dock in a few minutes. The fishing has been great; the blue marlins and tuna are biting, and the dolphins will be showing up any day. LET'S GO FISHING!
The weather looks good, calm seas and fair winds. Sit back, relax and have fun with some of the best sportfishing the outer banks have to offer. If there is anything we can do to make your trip more enjoyable, just let us know.
Hatteras has some of the best charter fishing in the world. You'll find that the Sea Creature is no exception to this rule. It comes outfitted with the latest fishing amenities and navigation technology. Furthermore, you'll feel right at home in a heated and air conditioned salon and kitchen, equipped with all the modern conveniences.
Most importantly, even overshadowing the capabilities of the Sea Creature, are the 20 plus years of fishing the Hatteras waters that your captain and first mate possess. Having won numerous trophies, world records and tournament placements, captain Coulter is fully qualified to be your outer banks sportfishing guide. We know all the spots, the geography and the proper techniques to ensure your Hatteras fishing trip is truly enjoyable and memorable. So remember the Sea Creature when you're planning your next Hatteras offshore fishing adventure.