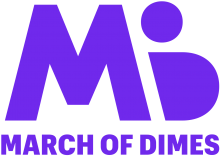 Mission:
We help moms have full-term pregnancies and research the problems that threaten the health of babies.
On the ground: For moms and babies everywhere.
Every year, more than half a million babies are born too soon in the United States. Our country's premature birth rate has risen by 36 percent over the last 25 years. That's serious cause for concern.

Premature birth costs society more than $26 billion a year and takes a high toll on families. Babies born just a few weeks early are at risk of severe health problems and lifelong disabilities. Premature birth is the number 1 killer of newborns.

In local communities across the country, we're helping moms take charge of their health, and supporting families when something goes wrong. The March of Dimes also acts globally: sharing best practices in perinatal health and helping improve birth outcomes where the needs are the most urgent.

We're reaching moms with information on having full-term and healthy pregnancies. Professional education and medical resources on topics like premature birth and birth defects, are helping health care providers better support their patients.

We are advocates. National guidelines for newborn screening were issued to help promote consistency among states so that all babies are screened for life-threatening identifiable, but treatable, disorders regardless of where they live. The March of Dimes advocates for renewal of these initiatives and implementation of their policies.

We invest in research. The March of Dimes supports research aimed at preventing birth defects, premature birth and infant mortality.
For questions about March for Babies walks in your area, volunteer opportunities, and more, contact your local March of Dimes Chapter.