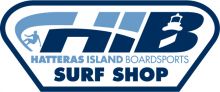 Rentals
Do you want a surfboard, bodyboard, or skimboard to shred the waves? Maybe a stand-up paddleboard or kayak to cruise the tranquil waters of the sound, or paddle with the dolphins in the ocean? Or do you need a wetsuit to keep the chill off?  Whatever it is, we've got you covered so you can get the most out of your visit to Hatteras Island and not have to lug gear from home!  With rental rates for 4-hours, 24 hours, 3-day, and weekly, you can enjoy quality rental equipment for the amount of time that works best for you!  You can even reserve your weekly rental ahead of time online or by phone, and schedule to have it delivered right to your rental property.  
Surfing Lessons
Hatteras Island is the top surfing destination on the East Coast. Surfers from all over the world come to the Outer Banks to surf the numerous uncrowded beach breaks that cover over a 50-mile-stretch of coastline. What attracts so many to make the trip to Hatteras Island is the consistency and quality of the waves. Hatteras Island Boardsports is the #1 location take a surf lesson on Hatteras Island, plain and simple! Our instructors are surfers who know what it takes through years of experience. There are many places to have a lesson but only one place to become a surfer.
The Shop
Hatteras Island Boardsports is so much more than just a surf shop, as there is something for everybody! A bright open space with over 5000 square feet packed with all the best products that the action sports industry has to offer. A huge selection of girls, guys, and kids beach lifestyle apparel, swimwear, sandals, and hats fill the store - along with jewelry, watches, sunscreen, & hundreds of styles of sunglasses. There are numerous styles of Cape Hatteras tees, tanks, mugs, and gifts as well, making HIB a perfect spot to pick up a souvenir or gift. And a surf shop wouldn't be complete without boards.  The board room is full of surfboards, bodyboards, skimboards, & skateboards, along with all the accessories such as leashes, boardbags, traction pads, skate accessories, helmets,  & pads. Hatteras Island Boardsports is a must stop shop for watersports lovers and casual shoppers alike, as there is something for everyone!