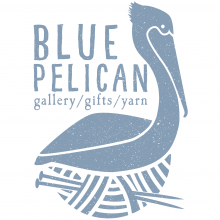 Blue Pelican Gallery is a unique Hatteras Island Gallery featuring secure online shopping for art and artistic gifts in many different media, mostly by Outer Banks and North Carolina Artists, but also by American artists and artisans.
Our mission is to create a peaceful yet exciting destination for you to slow down to our Island pace and enjoy the beauty of the beaches, ocean,  birds, wildlife, dunes, sunrises and sunsets, and more, that our unique Outer Banks home has to offer.
If you have always dreamed of visiting the Outer Banks, or if you are a regular visitor who carries cherished memories of family time at the beach, or if you are lucky enough to live on the Outer Banks…we have something for you!
The Blue Pelican Gallery is located in a Hatteras-style home built in 1950 (some of the wood was salvaged from shipwrecks along the beach), and renovated in 2005 by new owners Jennifer and Dan Johnson.  Outside, the porch invites you to sit and slow down to our Island pace in comfortable rocking chairs. Inside the Gallery, the heart-pine floors and beaded wood walls and ceilings are a perfect backdrop for many forms of art, showcasing the beauty of the Outer Banks and beyond.
Please browse our extensive inventory of photography, fine art, originals, glass, stained glass, canvases, art cards, jewelry, functional and decorative pottery, ornaments, housewares, and much, much more.  Each piece of art has been created by hand, with care, by American (mostly local) artists.  Every gift you select from our inventory truly IS a work of art.