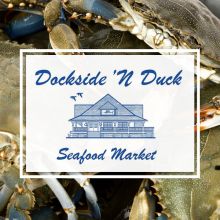 If you're a resident of the Outer Banks, locally caught, freshly served seafood is most likely a staple of your diet. If you're here on the coast for a less permanent stay, you've almost definitely wondered where you can go to find some... Well, here's your answer!
Owned by a local family of fishermen and farmers, Dockside 'N Duck has been this area's go-to source for everything seafood since 1987. Located on the sound side along the Duck Town Park Boardwalk, our market is brimming with choices for fresh fish, shellfish, shrimp, crab, lobster, veggies, homemade sides, sauces, spices, appetizers, desserts and more. Pick your favorites, prep them your way, then violà! The meal of your dreams beckons your fingertips.
Need to save some time? Have us steam the main course for you so you can leave with nothing left to do but eat. If you have trouble deciding what your main course should be, our steamer pots may be your best bet. Try a little bit of everything alongside red potatoes and corn-on-the-cob in one of our Down East Clambake pots to-go. Nothing makes a seafood lover's mouth water like a piping hot selection of fresh, local catches seasoned and steamed to perfection.