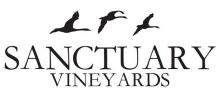 For seven generations the Wright Family has called coastal Currituck County home. Much has changed since original settler Jacob Wright shipwrecked on the shores of Duck, but the family still honors the farming tradition established hundreds of years ago, Sanctuary Vineyards is the product of centuries of farming experience and a dedication to a dream - producing world-class wines in Currituck County.
When our ancestors first settled here, vineyards usually consisted of a single muscadine vine in the backyard, the source of sweet fruit destined for jams, juice and the occasional jug of homebrew. However, the popularity of muscadine grapes soon grew, due to their affinity for the Carolina soils and unparalleled flavor. The period between the Civil War and Prohibition was a renaissance for North Carolina, when it led the country in wine production and became world renowned for its sweet elixirs.
Our family created this estate to begin a new wine tradition - brothers Tommy and Jerry Wright (and new generation John Wright) are using age-old methods to coax the sweetest fruit from these coastal sands. Welcome to Sanctuary Vineyards…
Sanctuary Vineyards is located on a quaint seaside farm where you are likely to see rows of corn competing with Cabernet and migratory snow geese nesting among the Sangiovese. Ten acres of grapes are nestled among hundreds of acres of farmland and wildlife impoundments that we like to call "The Sanctuary." Varieties include: Syrah, Tempranillo, Viognier, Norton and the classic Muscadine.
These grapes ripen in the intense heat of the Outer Banks summer, tempered by cooling breezes from the nearby Atlantic. The ancient sand dunes where they stand offer excellent drainage and contribute unique flavor to the ripening fruit. The combination of good earth, sun and sky is what the French would call "terroir." It all translates to good growing here at Sanctuary Vineyards.
North Block
Our North Block features two acres of Norton and Sangiovese grapes, planted in the spring of 2002. The Norton (also known as Cynthiana) is a native American red grape. It has a tendency toward vigorous growth and is planted on a divided canopy system. The Sangiovese is a classic Italian red grape and is a component of Chianti and other traditional Italian reds. The Sangiovese prospers in hot conditions, and we believe it can produce good fruit during long, humid Currituck summers.
South Block
Our South Block sits adjacent to the Cotton Gin and is landmarked by a large windmill that towers over the surrounding farmland. Here we have two acres of Traminette and Chardonel grapes planted in rich, sandy soil. Both are French hybrid grapes, consisting of traditional, old world grape varieties crossed with sturdier American vines to create a plant that can thrive in "New World" growing conditions. The Traminette is based on Gewurtztraminer, a white grape planted widely in the Rhine region of Germany, where it produces a wine with crisp acidity but with a distinct sweetness reminiscent of Riesling. The Chardonel is bred from Chardonnay, and will produce wines with the same varietal character and rich fruit flavors.