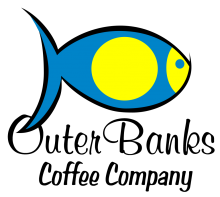 Outer Banks Coffee Shop in Corolla, NC
We take coffee seriously here at Outer Banks Coffee Company in Corolla, NC. We've been entrenched in the industry since 1994, having become an established coffee shop on the Outer Banks in 2000. Veteran-owned and operated, we take pride in our detailed and methodical approach to roasting. Using only the world's best Arabica beans, we roast our coffee fresh in-house and offer several specialized blends.
The moment you walk through our doors you'll notice the immense green roaster standing prominently out front. We invite you to bear witness to the slow, gas-fired roasting process — to prime your craving by the smell and sound of our coffees as they tumble down into the cooling bin. Big, mellow, never bitter flavors are the result. You're likely to be hooked after trying them, as so many others have become.
If you decide to sit for a few minutes, you'll observe a stream of folks revolving through the store. They're locals and vacationers alike, and they know us for our fast, friendly service, our somewhat bent sense of humor, and our understanding that ultimately you and your delicious coffee are what this is all about.