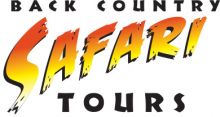 See the Corolla Wild Horses with Back Country Wild Horse Safari
Back Country Wild Horse Safari specializes in family-oriented nature tours through the 12-mile strand of the Outer Banks we call the "back country." You'll explore over 30 miles of beach, dune and back country trails in our family sized 4WD SUV's with our trained naturalists to discover the Outer Banks' abundant shorelife and experience an up-close visit with the legendary wild Spanish Mustangs brought to our shores by Spanish Conquistadors nearly 500 years ago.
For over 20 years, Back Country Safari Tours has been providing the world an opportunity to view the Corolla wild horses on their own terms. Melding together a one-of-a-kind experience of both high energy, off-road adventure through the back country with top-notch professional naturalists and guides, our wild horse safari cannot be beat. One of the great things about being a company with a long-standing history working in this area is our access to large tracks of both private and public preserves that remain off limits to other tour companies in the area. As a partner of the private Spanish Mustang Preserve and with our unique partnerships with large landowners, we have helped to create and conserve a network of protected lands for these horses.