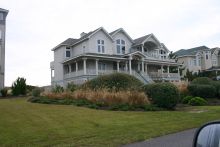 Should you rent a vacation home on the Outer Banks? Hundreds of thousands of Outer Banks vacationers do it every year. They know that renting a home away from home makes good vacation sense. And maybe it's time for you to do it too.
If you think renting a vacation home is something that only people with lots of money do, think again. Renting a home can be surprisingly affordable, and it's the savvy vacationers' secret to saving money. The price is often comparable, or even less, than a hotel room per night, and a vacation home can actually save you money by allowing you to eat some of your meals in.
Make no mistake — the Outer Banks has some fabulous hotel rooms, places that are perfect for shorter stays and last-minute getaways. But if you're coming for a week and you're bringing a crowd with you, a vacation rental can offer the perfect getaway accommodation with all the comforts of home plus the added luxuries that make a vacation special. The vacation rental is by a long-shot the most popular choice for accommodations on the Outer Banks.
Vacation rentals carry a bit more responsibility — you have to sign a contract, be careful not to damage the home, bring a bit more stuff — but the advantages definitely outweigh those added responsibilities. Just a few of the advantages of renting a house include the following.
Privacy 
You won't have to share your oceanfront balcony or swimming pool with strangers. Plus, there's much more privacy within your own family because each of you can have your own bedroom.
Freedom 
Sit on the porch in your bathrobe. Walk around in your swimsuit. Turn up the TV and music. Eat breakfast without having to get dressed and go down to the lobby.
Cooking 
Of course you're going to want to eat in restaurants while you're here, but a full kitchen means that you don't have to eat every meal out, a real money-saver. All rental homes are equipped with the things you'll need to cook a meal — dishes, utensils, cookware and appliances. Most homes supply a grill for outdoor cooking, and some homes have gourmet kitchens with many extras for people who like to cook. You should bring your spices and some staples from home, if you have room in the car, so you won't have to run out to the grocery for expensive sea salt, balsamic vinegar and spices that you already have.
Common Areas 
As opposed to a hotel room, a house has common areas, such as family rooms, kitchens, porches, dining rooms and game rooms, where family groups can be together in comfort.
Gatherings & Celebrations 
Vacation rentals are perfect for uniting groups for events such as family reunions, weddings and retreats. Many of the vacation rentals on the Outer Banks were built specifically to handle large groups; they have super-sized common areas, extra-long dining tables, kitchens with two refrigerators and two stoves, and other amenities to comfortably outfit a crowd. Of course, if a week with your in-laws sounds a little unnerving, or if your group is too large for one house, you can always rent several houses side by side. Rental companies are used to this request. (Keep in mind that most all of the rental companies have strict rules prohibiting house parties and groups like fraternities and sororities, high-school graduation celebrants and the like.)
Many of the Outer Banks rental companies have concierge services or event planners on staff to help work out the details of planning reunions, weddings and retreats. These people can help you find a home specifically suited to a group's needs. Corporate retreat planners can find a house equipped with fax machines, wireless Internet access and desk space. Family groups can find houses equipped with game rooms, home theaters, play rooms, swimming pools and baby gear.
A popular use for oceanfront rental homes is small weddings. Couples rent a magnificent oceanfront home with an open floor plan then have their wedding on the beach and their reception in the rental house or around the pool. Rental houses are also used for wedding accommodations, even if the wedding is not on site. It's easy to find a large house for the whole wedding party or several houses close together. Not all rental companies allow events such as weddings in their homes, and most require an additional security deposit if you are planning a wedding in the house.
Amenities
With so many rental homes on the Outer Banks, it's a sure bet that everyone can find the perfect house. The homes of the Outer Banks offer an incredible variety of amenities, all of which are well-advertised to attract renters. You can expect the basics — ac/heat, cable TV, stereos, WiFi, washer/dryers, all kitchen appliances, standard indoor furniture and outdoor furniture, cooking utensils and equipment, blankets, comforters and pillows, and equipment for normal housekeeping. Most homes offer outdoor showers, beach equipment and grills as well. You might find a few rustic cottages with no air-conditioning, TV or WiFi, but those are very few and far between.
With a lot of competition in the rental market, owners try to keep ahead of the pack by adding more amenities to attract renters. What used to be considered luxuries are now almost standard — hot tubs, private pools, whirlpool tubs, fireplaces and game rooms. Other amenities you can find include keyless entry and online checkin, home theaters, whole-house audio systems, media centers, gourmet kitchens, home gyms or fitness equipment, elevators, outdoor play sets for kids, pet accommodations and more.
If you're vacationing on a budget, there are plenty of modest homes for rent. Save money by renting a home with fewer amenities, and don't worry, you won't feel deprived. Why do you need a private pool when you have the ocean for free? Rent in a resort community and you'll probably have access to a public pool. Why do you need a home theatre when you can go to the movies for much less money? You get the idea. And, remember, the farther away from the water, the less expensive the rental. You can always walk or drive to the beach.
Things to Consider When Choosing a Vacation Rental
As you would expect, there is an enormous variety in price, location and amenities of Outer Banks rental cottages. Locations span across the islands, from the ocean to the sound and everywhere in between, and individual ownership means that properties vary widely in decor, design and amenities. Price varies depending on both of these factors. The main factors to consider when looking for a rental house are location, occupancy, amenities and price, in whatever order is most important to you.
 
Choose Your Outer Banks Locale
One of the first things you need to decide is which area you would like to stay in — Carova, Corolla, Duck, Southern Shores, Kitty Hawk, Kill Devil Hills, Nags Head, Manteo, Hatteras Island or Ocracoke Island. The areas of the Outer Banks are very different, so do a little research and pick a location where you and your party will be the happiest.
Choose a Location
Now you need to choose a location within your preferred locale. Do you want to stay on the ocean or the sound or in between? For some people, this decision is driven by price. Obviously, waterfront properties command the most expensive rental rates, with those on the oceanfront the highest. If you want to save money, consider sound side as opposed to ocean side. Or consider a property between the highways, which can be incredibly affordable and yet only a block or two from the ocean. Take a look at some of your general options. Keep in mind that these are not the only designations rental companies use, and there may be other designations depending on the location options.
Oceanfront — Directly on the beach. The benefits are many: convenience for beach-going, incredible views, private walkways.
Semi-oceanfront — This is the next best thing to oceanfront. Semi-oceanfront denotes that the house is one row or house back from the ocean. Not all areas have more than one house on an oceanfront lot, so this is not available in all areas. These homes typically have great views.
Oceanside — This means that the property is not directly on the oceanfront, but it's on the east side of N.C. 12 and therefore you don't have to cross a major road to get to the ocean. You do not have direct access to the ocean and will have to use a public or community access.
Between the Highways — This designation applies mainly to the properties in Kitty Hawk, Kill Devil Hills and Nags Head. The property is between the Beach Road (N.C. Highway 12) and the Bypass (U.S. Highway 158). Typically it is not a long walk to the beach, but you will have to cross N.C. 12 to get there.
Westside — These properties are on the west side of the island, west of N.C. 12 or U.S. 158. In the wider areas of the islands, it may not necessarily be close to the sound. If you're looking for a good deal, something very affordable and usually nice and quiet, westside is a good option.
Soundside — On the soundside of the island, but not soundfront. These properties often have great views of the marsh and sunsets.
Soundfront — Directly on the sound, with great views and usually some sort of access to the sound. The soundside of the island is tranquil, so even if you can afford oceanfront you might want to consider soundfront. Kiteboarders, kayakers and windsurfers especially enjoy sound access. 
Golf Course — Many vacation rentals are available overlooking one of the Outer Banks' four golf courses.
Canalfront — A home on a canal usually offers a boat dock, which is very convenient for vacationers who bring their own boats.
 Occupancy
Plan well for the number of people you will need to accommodate and the configurations in which they will sleep. Don't get more house than you need if you are trying to save money. The rental company jargon is that a home "sleeps" a certain number. Typically, a house sleeps two people per bedroom, so a four-bedroom home would sleep eight people. But sometimes a home has a pull-out sofa or extra beds in the rooms, so it sleeps more than you think for the number of bedrooms it has. Each house has a maximum occupancy, so pay attention to this before you book. Respecting a home's occupancy limits is very important, as most Outer Banks homes are on septic systems instead of sewers. The occupancy limits are also set based on the amount of parking that is available.
4. Price Range
As we said before, the price of a rental home varies widely according to season, location, amenities and size. Property management companies' websites allow you to search for properties according to price, so you can set a budget and then find a property that falls within it. An important note: The base price you see on the house listing is often not the final price. With most rental companies the price is often higher because of added taxes, security deposit, trip insurance and processing fees. All vacation rentals are subject to the North Carolina sales tax and the county occupancy tax. You can expect to pay from 10 to 12 percent in taxes. However, a couple of companies now include all the fees, taxes and deposits in the base price of the house. This is a new trend, so read the rental literature of the company you're working with closely.
 
5. When to Come
If you want to save money on the price of a vacation rental, the best thing to do is to rent in the spring or fall. You will be amazed at how much rental prices drop after Labor Day. The price of rental accommodations varies greatly according to the seasons. All of the different rental companies have their own systems of dates, terminology and rates for the rental seasons, but in general they all revolve around the prime or peak, shoulder and off-season schedule. The most popular seasons for vacations are the most expensive times to rent. The prime season, i.e., most expensive season, is summer, from mid-June through August. Early June and late August are sometimes a little less expensive. The shoulder seasons of September and October and April and May are less expensive than the summer. In the off-season, or winter, typically November through March, prices drop even more. Seasonal prices for each house are clearly listed on websites and in rental brochures.
 
6. The Rental Week
Do you want to rent from Saturday to Saturday or from Sunday to Sunday? If this matters to you, be sure to talk to a rental agent. Some companies now offer Friday to Friday rentals, which means that you come and go outside of the busiest rental changeover days. Friday to Friday rentals are also nice for those planning a weekend wedding.
 
7. Length of Stay
In the prime season (June, July and August) most companies have a one-week minimum rental. But many companies offer last-minute, partial-week rentals for any properties that are not already booked. They usually won't make reservations for these until two weeks before, or the week of, the rental. In the off-season, partial-week rentals are more readily available. You'll also hear the term "mini-vacations," which allow you to rent a home for three or four days instead of a full week. Not all properties are available for partial weeks. If you're looking at the last minute in the off-season you can typically find a place with a vacation rental company or online booking service like Airbnb or VRBO.  

8. Book It!
There are about 50 property management companies/rental agencies offering vacation rentals on the Outer Banks, and that's not including the cottages offered by cottage courts, motels and private individuals. With so much competition, you can bet the companies work hard to earn your business. You don't have to work with any company whose service is less than exceptional. All of the companies offer websites and color rental brochures detailing their properties. Do-it-yourselfers can search properties online, using a variety of criteria, and book the property online. If you prefer speaking to a person, all of the local companies have booking agents who can help you find just the right property. Once you have booked your property, you will be required to pay a deposit, usually half of the booking fee, plus a security deposit, administrative fee (if applicable) and trip insurance if you choose to buy it. Once you have paid your deposit, the company will send you a lease agreement to sign and return. Typically, the balance of the fee is due within 30 days of your visit.
9. Trip Insurance
It might seem like an unnecessary added expense, but trip insurance can be a lifesaver. If you're planning an Outer Banks vacation in hurricane season, which is June 1 to November 1 with the peak months being August, September and October, definitely buy the trip insurance. If you decline trip insurance and your trip gets cancelled due to weather, you still have to pay for the trip. Even outside of hurricane season, things happen (like a freak power outage to Hatteras and Ocracoke in July 2017 in which vacationers were evacuated!).

10. What to Bring
You'll need to bring your own groceries, along with toiletries, paper products, cleaning products, linens and towels (unless your rental company provides them) and your personal items. Some homes have cribs and high chairs, computers, bicycles, beach toys and other offerings, and those amenities are usually listed in brochure or website.
If the house doesn't have all the items you need, you don't necessarily have to bring everything from home. There are several equipment rental companies on the Outer Banks that offer just about anything you could want.