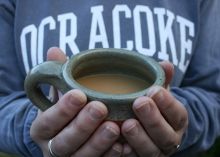 1. Start the day at one of the local coffee shops, Ocracoke Coffee Co. or Magic Bean Coffee Bazaar. Instead of rushing off with your coffee in hand, sit down outside and savor your breakfast while making new friends, island style.
2. Hit the bike path at the edge of town, riding or walking along N.C. 12 from town into the Cape Hatteras National Seashore. 
3. Ditch the car and wander around town on your feet or on your bike. Poke in and out of the island's shops and galleries, where the owners are frequently working! Take a selfie in front of the lighthouse. Stop for drinks or lunch along the way.
4. Hike in nature. Visit the Hammock Hills Nature Trail (across from the NPS campground) and visit Springer's Point Nature Preserve near the curve at the end of Lighthouse Road.  Both trails are well marked and wonderful and are great ways to take a break from the sun.
5. Explore 15 miles of uncrowded beach along the Atlantic Ocean. Go early morning, noon or night! Pick up shells, get a suntan, swim or fish from the shore. With a ORV permit from the National Park Service, you can even drive your 4WD out to the beach.
6. Listen to local music and storytelling at Deepwater Theater. Several evenings a week they feature local stories, the Ocrafolk Opry and Ocracoke's own Molasses Creek band. Or catch live music at one of several other venues and restaurants on the island.
7. Enjoy homemade desserts and amazing local seafood at many of Ocracoke's excellent restaurants and carry-out establishments.
8. Experience Pamlico Sound in a boat or kayak, on a sailing or charter fishing trip, on a standup paddleboard, on a clamming expedition or with a trip to nearby Portsmouth Island.
9. Cook some fresh seafood from South Point Seafood Market, run by Ocracoke's thriving fishing cooperative. Also see their historic exhibits about island fishing at the Ocracoke Watermen's Association on the dock by the Community Store.
10. Catch a mid-morning porch talk at the Ocracoke Preservation Museum down by the harbor. Talks are for adults and some for children too.