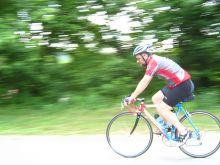 You're here and you're happy-go-lucky, but while you're out on the Outer Banks having fun, keep these few things in mind to ensure that you have a relaxed and safe vacation.
Outer Banks Driving Tips
With only three main roads to keep track of and water always within sight to help you get your bearings, it's extremely easy to get around on the Outer Banks. But there are a few things you should know about driving here.
The Bypass vs. Beach Road
U.S. Highway 158, or Croatan Highway, is locally called The Bypass (though it bypasses absolutely nothing). It runs from the Wright Memorial Bridge in Kitty Hawk through Nags Head. N.C. Highway 12, which runs parallel to the ocean from Corolla all the way through Hatteras Village and picks back up on Ocracoke Island, is also called Virginia Dare Trail or The Beach Road in the central beaches area. In Southern Shores and Duck it's called Duck Road. When traveling in Kitty Hawk, Kill Devil Hills or Nags Head, you can choose between the Bypass and the Beach Road, so pick your route and be prepared to travel accordingly. The traffic on the Bypass is fast-paced and hurried. The traffic on the Beach Road is slow and leisurely. If you pick the Beach Road, slow down and enjoy the scenery. The speed limit is 35 mph, but it's not uncommon for drivers to travel below that as they take in the surrounding sights. This Bypass is a five-lane road, and the speed limit is 50 mph for most of it. However, there are so many stoplights and so many people making turns from the Bypass that it's often quicker to get to your destination on the Beach Road.
If you choose the Beach Road, keep an eye out for pedestrians crossing the street. With cars in short driveways and trashcans on the side of the road for trash collection, pedestrians sometimes seem to pop out of nowhere. And since there are so many houses on the Beach Road, the foot traffic can be heavy. Sometimes there's a sidewalk but not always. There's a good chance that you'll be sharing the road with pedestrians of all ages, bicyclists, skateboarders and joggers.
A few notes about driving on the Bypass: The center lane is for left turning only. When you need to turn left, get in the center lane, then stop and wait until it is safe to turn. Don't stop in the moving traffic lane! Note: The center lane is used for people turning both east and west, so look out for cars entering the turn lane at the same time as you. When you're taking a left from a side street onto the Bypass and traffic is heavy from both directions, you can pull out into the middle lane and sit and wait to then merge into the traffic. If you're unsure about doing this, take a right and turn around. And you can always take on of the side streets towards one of the Bypass's traffic lights that'll give you a designated chance to turn. Another note: Don't tailgate! Many of the people around you have not been here before and are looking for a place they've never been. They will brake often as they're looking, so stay alert. If you're the one who's not sure where you're going, stay in the far right lane.
Outer Banks Mileposts
From Wright Memorial Bridge (0) through Hatteras Inlet (72), the Outer Banks is marked with Milepost markers. If you look closely, you'll see vertical green signs with white numbers placed every half-mile along U.S. 158 and N.C. 12 from Kitty Hawk south. If you're headed out to a restaurant or shop and you don't know where it is, ask for the Milepost number. Then, as you drive along, keep an eye out for the numbers along the roadside to help you get your bearings.
Check-In/Check-Out Times
Most Outer Banks vacation rental companies and hotels have specific check-in and check-out times, and they are rarely flexible on those since a lot of cleaning has to happen in the short window between the previous guests leaving and the new ones arriving. What can you do if you get here early? Go to a restaurant for a leisurely lunch, check out the local attractions (they're rarely crowded on check-in days) or go to the beach. On check-out, you may consider leaving earlier than the designated check-out time to avoid the lines at the rental company office and the traffic on the road.
Getting to the Outer Banks Beach
Getting to the beach is not as simple as just running over to the ocean anywhere you please. It's important to access the beach legally - via a community access or a public access, unless, of course, you're staying in an oceanfront hotel or home. Luckily, the Outer Banks has numerous public beach accesses with plenty of parking. Look for blue and white signs with an orange sun; these indicate a public access. Read the parking rules for your chosen access and have fun at the beach! Some accesses have more amenities than others; for instance, some have bathhouses and showers, some have portable potties and some have nothing more than a sand pathway across the dunes. There are towns that have more public accesses than others: Nags Head and Kill Devil Hills have the most by far; Duck has none. The Cape Hatteras National Seashore has numerous parking areas and three bathhouses.
Another important thing to remember about getting to the beach: Always use a boardwalk, dedicated path or access. Do not traipse over bare dunes or let kids or pets play on the oceanfront dunes. Don't pluck or pull the sea oats blanketing the dunes either. The dunes are very fragile and any disturbance can contribute to erosion.
Outer Banks Bike Paths
For exercise like bicycling, jogging, walking, inline skating and strolling babies, many Outer Banks towns provide paved bike paths. Stay on the right side of the path and alert people when you're coming up behind them to pass on the left. When you're on the path, always be on the lookout for cars pulling out of driveways. They're supposed to look for you, but they don't always do it, so be on the offensive. Bike paths are located in the following places:
·       Corolla: The Corolla Light subdivision has a bike path running along N.C. 12 on the north end of the banks in the vicinity of the Whalehead Club and the Currituck Beach Lighthouse.
·       Duck: This path begins at the Southern Shores town line and continues 5 miles through Duck all the way up to the Sanderling Resort.
·       Southern Shores: This 5-mile path runs from the Wright Memorial Bridge along U.S. 158 to the Southern Shores Town Hall and then north along N.C. 12 to the Duck town line.
·       Kitty Hawk: This path is located on Woods Road and is 2 miles long.
·       Kill Devil Hills: This path begins at West First Street and follows Colington Road (by the Wright Brothers National Memorial), then continues east to the Beach Road.
·       Nags Head: This path runs the entire length of the town, along the Beach Road.
·       Manteo: This beautiful path parallels U.S. 64 from the Washington Baum Bridge to the William B. Umstead Bridge. It's about six miles long, and it is the perfect way to visit historic downtown Manteo and most the Roanoke Island attractions.
Outer Banks Ferry Schedules
For more ferry information, call (800) BY-FERRY or visit http://www.ncferry.org. Ferry schedules may change, so call in advance if possible.
Hatteras-Ocracoke Free Ferry: This ferry service links Hatteras and Ocracoke islands with a relaxing hour and 10 to 15 minute trip. During the summer the wait can be long. Reservations are not accepted. When getting in line for this ferry, follow the directions of the staff and don't get into the locals' line! Call (252) 986-2353 or (800) 368-8949.
Hatteras to Ocracoke:
Jan. 1 - May 11: Departs every hour from 5 a.m. to midnight.
May 12 - Sept. 28: Departures at 5, 6 and 7 a.m.; every 30 minutes from 7:30 a.m. to 7 p.m.; then at 8, 9, 10, 11 p.m. and midnight.
Sept. 29 - Dec. 31: Departs every hour from 5 a.m. to midnight.
Ocracoke to Hatteras:
Jan. 1 - May 11: Departs every hour from 5 a.m. to midnight.
May 12 - Sept. 28: Departures at 5, 6 and 7 a.m.; every 30 minutes from 7:30 a.m. to 7 p.m.; then at 8, 9, 10, 11 p.m. and midnight.
Sept. 29 - Dec. 31: Departs every hour from 5 a.m. to midnight.
Know that Ocracoke's ferries run on Island Time, which isn't always in accordance with what the schedule says. If you're on a schedule of your own, always allow for more time at the ferry than you think you might need.
Cedar Island/Swan Quarter Toll Ferries: These ferries carry passengers between Ocracoke and the mainland towns of Cedar Island and Swan Quarter. The Cedar Island Ferry is 2¼ hours long and the Swan Quarter is 2½ hours long. Call for departure times because they vary quite a bit throughout the year. Reservations are recommended; make them by calling (800) 293-3779. You must claim your reservation 30 minutes prior to your departure time. Cost is $1 for pedestrians, $3 for bicycles, $10 for motorcycles, $15 for vehicles and/or combinations less than 20 feet, $30 for vehicles/combinations 20 to 40 feet and $45 for vehicles/combinations up to 65 feet.
Outer Banks Weather Information
Most of us have Smart phones with weather apps on them. If you want more detailed information, watch The Weather Channel (if you have access to local cable or satellite TV or the Internet). Otherwise, listen to the radio. Local radio stations give frequent weather updates. Checking out NOAA's website is always a good idea too.
Tides
In an island environment, a lot depends on the tides. You'll want to time your beach walk to low tide, your fishing trip to an incoming high tide and your clam dig to a falling tide. Printed tide charts are available at local tackle shops, or you can call one of the local piers and they'll tell you when the tides are changing. Local radio stations also help you keep an eye on the tide changes.
Outer Banks Emergencies
Dial 911 for any emergency - fire, police, sheriff, ambulance or ocean rescue.
Emergency Medical Facilities
Only the Outer Banks Hospital is open 24 hours, but some of the other facilities listed have an emergency call number on their answering machines.
·       The Outer Banks Hospital, Nags Head, (252) 449-4500
·       Outer Banks Urgent Care, Nags Head, (252) 261-8040
·       Beach Medical Care, Kitty Hawk, (252) 261-4187
·       HealthEast Family Care, Avon, (252) 995-3073
·       HealthEast Family Care, Hatteras Village, (252) 986-2756
Outer Banks Water Safety
Swimming in the ocean calls for more caution than you would take when swimming in a lake or pool. If you're in doubt about the conditions or your swimming ability, do not swim, unless you are within sight of a lifeguard. Keep these tips in mind when swimming in the ocean.
Watch Your Children: It is especially important to keep an eye on children at all times, even on calm days and even if they're only wading in the surf. Little ones can be easily and quickly washed off their feet by a wave when you're not looking.
Stay Away from Piers: Keep at least 300 feet away from fishing piers when swimming or surfing. Rip currents are more likely to occur near piers, and it's not a good idea to swim close to where people are fishing.
Know Your Ability: If you are not a strong swimmer, do not go out beyond wading depth. Do not depend on flotation devices like rafts and body boards if you are not a strong swimmer. They can easily wash away from you.
Red Flags Flying: Sometimes the ocean will look fine to you, but, nevertheless, there are dangerous currents at work. If it is too dangerous to swim on any given day due to dangerous rip currents, ocean-safety personnel will fly red flags along the beaches. The flags mean that swimming is prohibited - do not swim or even wade in the surf. And do not second-guess the professionals on this issue!
Rip Currents: Do you know what a rip current is and what to do if you get caught in one? A rip current is a powerful channel of water flowing away from the shore. Rip currents can be spotted by a difference in water color, a gap in the breaking wave pattern or foam and objects moving out to sea. But they are difficult to spot, and you may not see them even though they're there. Rip currents do not pull people under water - they pull people away from shore. Thus, drownings occur when people are unable to stay afloat due to panic, exhaustion or lack of swimming skills.
What to do in a rip current:
·       If you start to feel that you are being pulled out to sea, do not panic. Stay calm so you can think clearly. It might be helpful to float on your back for a bit while you calm down and regroup.
·       Never try to swim directly back to shore or you will tire yourself out. The best thing to do is to slowly, calmly swim parallel to the shore to get out of the current.
·       Once you feel that you are no longer being pulled outward, swim back into shore.
·       If you are unable to swim out of the rip current, float or calmly tread water. When the current dissipates, swim diagonally to shore.
·       If you are still unable to reach shore, draw attention to yourself by yelling for help.
·       If you see someone in trouble, summon a lifeguard or call 911. Throw a flotation device to the person. Remember, many people drown while trying to save someone else from a rip current, so do not come into direct contact with the person in trouble.
Swim Near a Lifeguard: Lifeguards are on the beach from Memorial Day through Labor Day and sometimes a little longer in the season. Hours vary. Some lifeguards are posted on stands while others roam the beach on ATVs. If you are not a strong swimmer, it is highly suggested that you ocean-swim within view of a lifeguard.