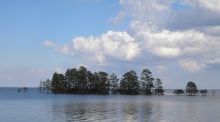 The Outer Banks gets all of the attention for its postcard-worthy beaches, varied eateries, boutique shops and renowned attractions. But did you know that there's so much worth exploring beyond this string of barrier islands? Maybe you're visiting the Outer Banks and looking for a way to familiarize yourself with the area or perhaps you live here and want a change of scenery. You're in luck either way because the Outer Banks is close to other towns and areas that make for a good daytrip while still being removed enough that you feel like the distance only adds to the adventure. When we say daytrip, think beyond Corolla and Ocracoke, which are probably what pop into all of our minds first. Here are a few options for Outer Banks daytrips to check out when you have a time to spare and thirst for adventure.
Lake Mattamuskeet
Lake Mattamuskeet is an outdoorsman's paradise. Part of Mattamuskeet National Wildlife Refuge in Hyde County, it's a habitat for numerous species of fish, mammals, reptiles, amphibians and birds. Anglers bring their rods and tackle for catching bass, catfish and perch. Families come here with the supplies for catching the beloved North Carolina blue crab. Hunters frequent the area during the appropriate seasons for whitetail deer and waterfowl. If you love observing wildlife in its natural habitat, a visit to Lake Mattamuskeet lets you spot bald eagles, black bears, bobcats, geese and swans. If you're looking for a reason to get out of the house in the colder winter months, winter is the best time for birding at Lake Mattamuskeet; you'll see thousands of tundra swan and many other wintering waterfowl. Check out the refuge's Swan Days, happening in early December. This annual event welcomes the tundra swans' return to North Carolina as they migrate south for the winter. There are not many conveniences around the lake so make sure you fuel up the car and pack up a few snacks before you venture out. The village of Engelhard is about a half-hour away and you can find gas and food there. 
Knotts Island
Knotts Island in Currituck County missed the wave of popularity that swept over the rest of the Outer Banks. As a result this little gem has preserved its small-town coastal community feel while still offering attractions that appeal to North Carolina and Virginia residents and visitors alike. Take the ferry from the dock at the Historic Currituck County Courthouse to get to the island across the Currituck Sound; alternately, you can drive over from Virginia Beach, Va. The ferry trip from the North Carolina mainland takes about 45 minutes and is free. Once you arrive on Knotts Island, check out Mackay Island National Wildlife Refuge. People love visiting in the winter to see migratory waterfowl populations. Complete with a pond and short trail loop, the wildlife refuge is a great place for wildlife spotting and nature photography. Up next you can spend the afternoon unwinding at the local vineyard, Martin Farm and Winery. Sample regional wines and pick up a bottle of your favorite to take home with you. Depending on the season, you can pick peaches or apples here too. There's a little market on Knotts Island that caters to all of your daytrip needs: Grab a biscuit sandwich when you begin your sunrise fishing trip (they sell tackle too), pick up bread and cheese to accompany your visit to the vineyard or build a picnic lunch that you can enjoy in the tranquil outdoor setting. Pearl's Bay Villa is the locals' favorite restaurant on the island, and it offers a view of the water.
Edenton
It may not be Andy Griffith's fictitious Mayberry, but it's pretty dang close. Visit downtown Edenton for an experience that meets all romantic notions about the classic Southern small town. Situated on the Albemarle Sound, Edenton is filled with a vibrant business scene, outdoor activities and rich national history — did you know the Boston Tea Party was inspired by one Edenton held months earlier or that famed abolitionist Harriet Jacobs hailed from the town? Wander through the family-owned shops and eateries, pay a visit to the town's three National Historic Landmarks, explore the beautifully restored and maintained homes in the residential area, take a sailing or kayaking excursion along the Albemarle Sound — the multitude of things to do makes for a perfect daytrip at any time of year. The holidays are especially festive in Edenton. The Christmas Candlelight Tour features numerous historic homes decorated for the holidays as well as related events in historic sites around town.