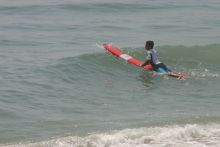 You're here and you're happy-go-lucky, but while you're out having fun, keep these few things in mind to ensure that you have a relaxed and safe vacation.
Driving Safety
With only a few main roads to keep track of and water always within sight to help you get your bearings, it's extremely easy to get around on the Outer Banks. But there are a few things you should know about driving here.
The Bypass vs. Beach Road
U.S. Highway 158, or Croatan Highway, is locally called the Bypass (though it doesn't bypass anything). It runs from the Wright Memorial Bridge in Kitty Hawk through Nags Head. N.C. Highway 12, which runs parallel to the ocean from Corolla all the way through Hatteras Village and picks back up on Ocracoke Island, is also called Virginia Dare Trail or The Beach Road in the central beaches area. In Southern Shores and Duck it's called Duck Road.
When traveling in Kitty Hawk, Kill Devil Hills or Nags Head, you can choose between the Bypass and the Beach Road, so pick your route and be prepared to travel accordingly. The traffic on the Bypass is fast-paced and hurried. The traffic on the Beach Road is slow and leisurely. If you pick the Beach Road, slow down and enjoy the scenery. The speed limit is 35 mph and prepare to stop at crosswalks for pedestrians. This Bypass is a five-lane road, and the speed limit is 50 mph. However, there are so many stoplights and so many people making turns from the Bypass that it's often quicker to get to your destination on the Beach Road.
The Center Lane, a.k.a., The Turn Lane or The Suicide Lane
A few notes about driving on the Bypass: The center lane is for left turning only. When you need to turn left, get in the center lane, then stop and wait until it is safe to turn. Don't stop in the moving traffic lane! Don't drive in the center lane! Note: The center lane is used for people turning both east and west, so look out for cars entering the turn lane at the same time as you. When you're taking a left from a side street onto the Bypass and traffic is heavy from both directions, you can pull out into the middle lane and sit and wait to then merge into the traffic. If you're unsure about doing this, take a right and turn around.
Don't Tailgate
A word of caution: Don't tailgate! Many of the people around you have not been here before and are looking for a place they've never been. They will brake often as they're looking, so stay alert. If you're the one who's not sure where you're going, stay in the far right lane. 
Do We Need to Say It? Stay off Your Phone When Driving!
Biking and Pedestrian Safety
Bike Paths
For exercise like bicycling, jogging, walking, inline skating and strolling babies, many Outer Banks towns provide paved bike paths. Some are separate paths and some are wide paved shoulders. For family-style cruising, the multi-use paths are the best bet. If you're on a paved path, stay on the right side of the path and alert people when you're coming up behind them. When you're on the path, always be on the lookout for cars pulling out of driveways. They're supposed to look for you, but they don't always do it, so be on the offensive.
For high-speed experienced cyclists, the road shoulders shoulders are better, especially because the paths are usually crowded with walkers and joggers. Cyclists still need to wear bright reflective gear and ride on the right. Summer is not the best time for Outer Banks cycling due to tourist traffic.
Avoid cycling, whether high speed or casual, on the Bypass at all times. Traffic is moving too fast and the shoulder lane is not sufficiently wide. However, Nags Head is slowly adding a paved path along the west side of the bypass so there are some areas where it is safe to cycle along that roadway.
Maps of the Outer Banks' multi-use paths can be found here (Corolla to Nags Head) and here (Manteo to Hatteras).
Here are a few bike tips from the Outer Banks Bicycle and Pedestrian Safety Coalition:
Be visible! The OBX does not have many street lights, and it gets very dark here at night. Your bicycle lights, your safety vests and bright clothing are extremely important for motorists to be able to see you.
A bicyclist is required to follow the same laws as motorists. You must ride your bicycle with traffic on the highway and follow the same laws as motor vehicles like stopping at stop signs and lights, signaling turns and yielding to traffic. Always ride with traffic, not against it. If a motorist hits a bicyclist riding against traffic, the motorist is not liable for the accident in this country.
As a pedestrian, you must always walk against traffic, and never in the road. Walk on the multi-use paths or on the shoulder of the road. Do not walk on the road.
Cross on the crosswalks! 75% of all the accidents that happen on the OBX are crossing accidents that could have been prevented if the crosswalks were used. The safest place to cross the road is at a stoplight. Remember: It is state law for vehicles to stop for pedestrians at crosswalks. Drivers, pay attention! Pedestrians, don't expect drivers to stop. Many do, but many don't. Wait to make sure before you step into the road.
When you are crossing the street, always watch the motorist's face. Distracted motorists are a major cause of accidents on the OBX.
NEVER run across U.S. 158 or stand in the middle lane. This is the most dangerous place and motorists may not see you standing there.
Lock up your bicycle. If you like it, lock it up.
Water and Beach Safety
Swimming in the ocean calls for more caution than you would take when swimming in a lake or pool. If you're in doubt about the conditions or your swimming ability, do not swim, unless you are within sight of a lifeguard. Keep these tips in mind when swimming in the ocean.
Watch Your Children: It is especially important to keep an eye on children at all times, even on calm days and even if they're only wading in the surf. Little ones can be easily washed off their feet by a wave when you're not looking. Life jackets are always a good idea.
Stay Away from Piers: Keep at least 300 feet away from fishing piers when swimming or surfing.
Know Your Ability: If you are not a strong swimmer, do go out beyond wading depth and swim near a lifeguard if possible. Do not depend on flotation devices like rafts and body boards if you are not a strong swimmer. They can easily wash away from you. Always use a leash on boogie boards, surfboards and paddleboards. Have young children or less confident swimmers wear a life jacket.
Pay Attention to Flags: Sometimes the ocean will look fine to you, but, nevertheless, there are dangerous currents at work. If it is too dangerous to swim on any given day due to dangerous rip currents, ocean-safety personnel will fly red flags along the beaches. The flags mean that swimming is prohibited – do not swim or even wade in the surf. And do not second-guess the professionals on this issue! Yellow flags mean conditions are favorable for rip currents. Use caution and swim near a lifeguard.
Rip Currents: Do you know what a rip current is and what to do if you get caught in one? A rip current is a powerful channel of water flowing away from the shore. Rip currents can be spotted by a difference in water color, a gap in the breaking wave pattern or foam and objects moving out to sea. But they are difficult to spot, and you may not see them even though they're there. Rip currents do not pull people under water – they pull people away from shore. Thus, drownings occur when people are unable to stay afloat due to panic, exhaustion or lack of swimming skills.
If you start to feel that you are being pulled out to sea, do not panic. Stay calm so you can think clearly. It might be helpful to float on your back for a bit while you calm down and regroup.
Never try to swim directly back to shore or you will tire yourself out. The best thing to do is to slowly, calmly swim parallel to the shore to get out of the current.
Once you feel that you are no longer being pulled outward, swim back into shore.
If you are unable to swim out of the rip current, float or calmly tread water. When the current dissipates, swim diagonally to shore.
If you are still unable to reach shore, draw attention to yourself by yelling for help.
If you see someone in trouble, summon a lifeguard or call 911. Throw a flotation device to the person. Remember, many people drown while trying to save someone else from a rip current, so do not come into direct contact with the person in trouble.
Swim Near a Lifeguard: Lifeguards are on the beach from Memorial Day through Labor Day and sometimes a little longer in the season. Hours vary. Some lifeguards are posted on stands while others roam the beach on ATVs. If you are not a strong swimmer, it is highly suggested that you ocean swim within view of a lifeguard.
Other Water and Beach Safety Tips:
Keep an eye on the weather. Don't wait until the lightning is right over you to run to your car.

Never dive into the ocean head first.

Wear shoes. The sand can burn your feet in the hottest parts of the day.
Do not burn your pets' feet. Do not bring pets to the beach between 10 a.m. and 4 p.m. unless you have a plan to protect their pads.
Protect your skin with sunscreen, hats, clothing, umbrellas or tents.
Stay hydrated. Drink a lot of water when you're in the sun.
Teach your kids surfing and skimboarding safety. Besides plowing into the someone else, they can seriously hurt themselves if they don't know what they're doing. Lessons are available through almost every surf shop.
Never swim, kayak, surf, paddle alone. If you do go it alone, always file a float plan with someone. Tell them what time you left, where you're going and what time to expect you back.
One of the most dangerous things people do at the beach is digging huge holes. Kids digging small holes for sandcastles is fine, but those giant 3-feet-deep, 34-feet-wide holes are dangerous. Not only are the holes obstacles for walkers and those who patrol the beach in vehicles, but also the holes have been known to cave in and suffocate people. Seriously. This happens.
Emergencies
Dial 911 for any emergency — fire, police, sheriff, ambulance or ocean rescue. The first thing they are going to ask is your location. Pay attention. Know your vacation address or the name of the beach access you used to get to the beach.
Emergency Medical Facilities
Only the Outer Banks Hospital is open 24 hours.
The Outer Banks Hospital, Nags Head, (252) 449-4500
Outer Banks Urgent Care, Nags Head, (252) 261-8040
Sentara Urgent Care, Kitty Hawk, (252) 715-5110
Beach Medical Care, Kitty Hawk, (252) 261-4187
Hatteras Village Medical Center, Hatteras, (252) 986-2756
Ocracoke Health Center, Ocracoke, (252) 928-1511