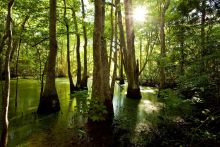 For many of us, our day-to-day lives are filled with bustle: Go to work, run errands, pick up kids from school, make meals, oops – did you remember to grab more milk from the grocery? Even on vacation we may find ourselves calming squabbling relatives, making six different lunches at a time or trying to amuse a house full of stir-crazy children on a rainy day. Whew. It's not a lot to ask for a place to catch a moment's breath. These Outer Banks things to do let you hit the pause button on life or enjoy a moment of solitude.
Outer Banks Things to Do: Spa Day
When you feel caught up by life's fast pace, it's hard to remember, yet important, to treat yourself. Practice a little self-love by pampering your body or spirit at a spa, salon, masseuse or yoga class. Taking a spa day is a popular Outer Banks thing to do. Kick back and enjoy a mani-pedi. Rejuvenate in a spa treatment. Work the stress from your shoulders and back with numerous varieties of massage, ranging from Swedish to hot stone. Say Om as one of the area's skilled yoga instructors guides you through poses that help you achieve mental and physical balance.  
Outer Banks Things to Do: Hit the Road
When everything spirals out of your hands, take the wheel — it's one thing you still control. Driving, particularly in the off-season, is an Outer Banks thing to do that provides a temporary escape and simultaneously lets you explore this beautiful setting. You can drive along the Cape Hatteras National Seashore on Hatteras Island and Ocracoke Island. On the two-lane road hugged by the ocean along one side and sound on the other, you're about as isolated as it gets. Or cruise down the Beach Road. Roll down the windows and let the wind tousle your hair. Put your favorite jam on the radio. Steal peeks at the ocean through breaks in the sand dunes. It's a prime spot for watching the sun rise or set. Enjoy this time where it's only you and the road.
Outer Banks Things to Do: The Ends of the Earth
Okay, not really, but you don't need a strong imagination to feel like Highway 12's end in Corolla is somewhat like an island, separate from the rest of the world. You drive and drive and all of a sudden, the road just ends. Gone. Swallowed by sand. Pay a visit to the beaches in northern Corolla and Carova when you're itching to find a spot that's removed from the familiar shades of everyday life.
Portsmouth Island, offshore from Ocracoke, is another spot that makes you slow down . . . literally! You have to take a boat to get to the island's abandoned village. While it could easily be mistaken for a ghost town, it lacks that empty element. You can look around the village and observe how its old inhabitants lived and feel the sense of community that previously flourished. Without anyone else there, though, you get to enjoy it all to yourself. It's a meditative activity as you observe the resting remains from years gone by.
Outer Banks Things to Do: Take a Hike
No really, lace up your tennis shoes and get out of the house. The Outer Banks hosts an array of outdoor sanctuaries that let you get away from it all. Hike through a nature preserve in Nags Head. Jog along one of the multi-use paths in Southern Shores or Duck. Or toss the leash around your dog and bring her along. Stroll along a soundside boardwalk in Roanoke Island.  
When you finally make it to where you're surrounded by nature, just breathe. Feel the sun warm your skin and the wind lift your hair. Listen to the swaying sea oats rustle or the hum of cicadas. Inhale the air thick with the smell of sea salt or the earthy scent of wax myrtles. Absorb the tranquility around you.