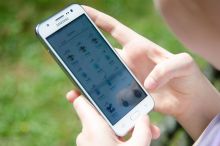 A new kind of wave swept the Outer Banks in the summer of 2016. This wave was not heat or water related, however. It was a wave of nostalgia combined with cutting-edge technology: the release of Pokémon Go.
This game is a reinvention of the Pokémania craze that swept the world back in the late '90s and early 2000s. What started as a Nintendo game soon came accompanied by trading cards, television shows, movies and additional paraphernalia. Now once again, people gotta catch 'em all. This time, though, instead of kids on a Gameboy, it's people of all ages wandering through the Outer Banks, smartphones in hand, as they search for new Pokémon to catch.
This new fad appeals to young people who stay up to date on the latest apps and games and tickles the nostalgia of older kids too who have fond memories of the original Pokémon days.
For the most part the Outer Banks hosts an assortment of suburban Pokémon (like Pidgey, Rat and Eevee) you'll find in neighborhoods and residential areas as well as water Pokémon (such as Magicarp and Poliwag) out on the beach and in the ocean and sound. Favorite Outer Banks attractions and landmarks also serve as "Pokémon Go" hotspots, which lets you get in your sightseeing while also hunting for Pokémon. Visit Jockey's Ridge to up your Pokémon count. Take your Pokémon for a gym workout when you also break a sweat while climbing a lighthouse. When seeking out Pokéstops, check out the surrounding historic sites as well. Rumor has it that one Roanoke Island attraction even has as many as 11 Pokéstops and one gym!
And never assume a location is too unusual or isolated for a Pokémon — they've even been known pop up on the ferry rides between the mainland and Ocracoke Island!
That said, Pokémon Go players are requested to rein in their enthusiasm when it comes to certain locations. Visitors to cemeteries, churches and memorials are encouraged to be mindful of the reason they're there and maintain a sense of reverence for other visitors too.
Outer Banks Things to Do for the Best Pokémon Go!
The talk among locals is that Roanoke Island is one of the best spots on the Outer Banks for Pokémon Go. Downtown Manteo's historic waterfront area often attracts people because of its picturesque lighthouse or panoramic views overlooking the sound, but it's also home to a collection of eight to ten Pokéstops within a couple of miles.
It's easy to get caught up in the energy and fun chasing and catching the Pokémon. This is perfectly fine — and encouraged — as long as players remember where they are and what they're doing. Sitting on the beach, strolling through a park or grabbing lunch at an Outer Banks restaurant are perfect times for catching Pokémon. Walking along the road, biking or driving? Better put the phone away for another occasion. The roads on the Outer Banks get busy (have you noticed?), and vigilance is key.
But there's a ton of ground to cover. So round up your friends or get the whole family involved and explore the Outer Banks as you catch 'em all.