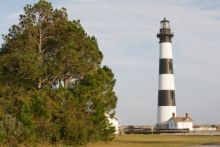 Now is the time to get out into the nature. Nature envelops every aspect of an Outer Banks visit. You're on islands, after all, surrounded by ocean, sound, sand, marsh and endless sky. You're in an environment with maritime forests containing some of the widest variety of flora and fauna found anywhere; with wildlife refuges that shelter wolves, birds and bears; with wild horses that roam free in Corolla; with Jockey's Ridge, the largest sand dune on the East Coast; and with mile after mile of undeveloped National Seashore beaches. The North Carolina Aquarium and The Elizabethan Gardens add to the natural dimension of the Outer Banks attractions.
Now is also an especially good time to learn about history. Look around and you'll see lighthouses, three of which (the Currituck Beach, Bodie and Cape Hatteras lights) you can climb for a wonderful view of the barrier islands. Historic homes, hunt clubs, museums and lifesaving stations provide an amazing glimpse into the past lifestyles of Outer Banks locals and visitors. Monuments tell the story of flight and the Wright brothers, of the Freedmen's Colony that was located on Roanoke Island after the Civil War, of battles offshore that lit up the night sky during World War II. Roanoke Island offers several attractions that will enchant you with the story of the first English attempts of colonization in the New World. See the outdoor performance of the The Lost Colony, visit Roanoke Island Festival Park and Fort Raleigh National Historic Site, and you'll have a good idea of this dramatic history. Other sites offer opportunities to learn about Native Americans, inventors, shipwrecks, waterfowl hunting, fishing and other elements of this area's rich history.
It's also a good time to enjoy the arts. From gallery exhibits to free concerts to theater to visual arts, the Outer Banks hosts a variety of cultural performances. If you find yourself inspired, it's not hard to find arts and crafts workshops happening in towns throughout the Outer Banks. You can learn how to craft your own sea glass jewelry or paint pictures with your friends while sipping on cocktails.
With so much to see, experience and learn, you're likely to need more than one visit to take in all the extraordinary attractions the Outer Banks has to offer. Check out our Attractions List for more details. Enjoy!