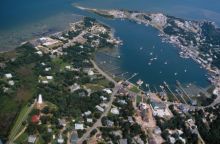 Ocracoke Island is the Outer Banks' getaway spot. People who live on the rest of the Outer Banks go to Ocracoke for their own vacations, and that says a lot about the character of this island. If you're looking for some peace and quiet, this island is for you.
Ocracoke definitely operates on "island time." That saying might be a little cliché, but it holds true for Ocracoke. The rushing and hustling of normal life ceases when you're a visitor on Ocracoke Island. The whole aura of the island and its people reminds you to slow down and enjoy life's moments.
The thing about Ocracoke is that it's admittedly not for everyone. People who expect a high level of excitement — such as go-carts, amusement parks, shopping malls and flashy nightclubs — might not enjoy it here. Ocracoke is about simple activities such as building a sand castle, crabbing from a dock, pedaling aimlessly on a bicycle, peeling your own shrimp…and actually having very little to do!
The remoteness of the island contributes to its slower pace. You can't get to Ocracoke by zipping over a bridge, like you do to the rest of the Outer Banks. To get here, you have to put in a little more effort on a ferry. Ferries depart from the southern tip of Hatteras Island and from the North Carolina mainland in Swan Quarter and Cedar Island. The ferry ride is an essential part of the Ocracoke experience. It takes about an hour of just sitting and waiting to get across Hatteras Inlet to Ocracoke Island, and during that time you can just feel yourself slipping into that aforementioned "island time." From the mainland the ride is even longer – more than two hours. After staring into the water, feeding the sea gulls and having a short nap in the sun, you'll be ready for Ocracoke.
Located southwest of Hatteras Island, Ocracoke Island is only 16 miles long and anywhere from 3 miles to less than a half-mile wide. The north end of the island is part of the Cape Hatteras National Seashore and is undeveloped. When you get off the ferry from Hatteras, you drive past 13 miles of open dunes, maritime forest and marshland before you see the village. This is why you need a car on Ocracoke. Experienced cyclists could make the trip from the ferry to the village easily, however.
The Beach on Ocracoke Island
Ocracoke's beach has attracted increasing national attention as it worked its way up Dr. Beach's acclaimed list of Best Beaches. It recently named in Coastal Living magazine's Top 21 Beaches list. The wide, sandy beach is clean, and there are plenty of spots where, with a little effort, you can enjoy it undisturbed by others. The ocean reaches high temperatures of 85 F in the summer and can adopt the clear aquamarine hues of tropical waters when the conditions are right. Board sports, surf fishing, swimming, shelling, reading and napping are all popular beach pastimes. The 16 miles of oceanfront beach are part of the Cape Hatteras National Seashore and are free of development. Pets are welcome, but must be on a 6' leash at all times.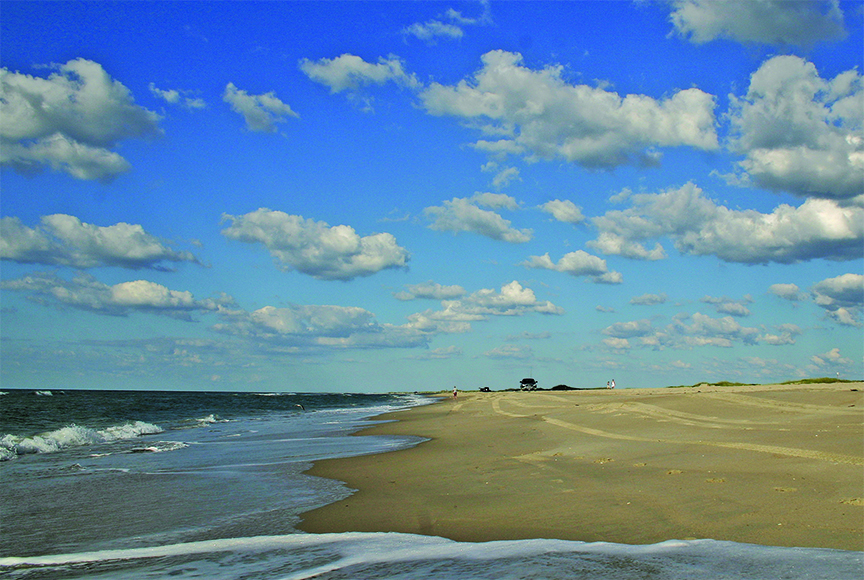 It's a good idea to confirm seasonal routes, beach closures, and ramp openings with the National Park Service. All vehicles on the beach must apply for an off-road vehicle (ORV) beach driving permit.
The 2016 annual permit for off-road vehicles (or ORV), which costs $120 per vehicle, will be valid from the date of purchase through December 31, 2016. Week-long permits, valid for 7 consecutive days, cost $50. Those who purchase a permit will be required to watch a seven-minute educational video at one of the park's visitor centers. The ORV permit offices are open seven days a week, 8 a.m. to 4:30 p.m. year-round except Christmas Day.
Permits can be obtained from any of the Seashore's three permit offices located on:
* Bodie Island at the north end of the Coquina Beach parking lot (8101 NC 12 Highway, Nags Head, NC);
* Hatteras Island by the Cape Hatteras Lighthouse Visitor Center (46368 Lighthouse Road, Buxton, NC); or
* Ocracoke Island by the NPS visitor center (40 Irvin Garrish Highway, Ocracoke, NC).
There are restrooms, changing rooms and a shower facility located at the day use area on Highway 12 just outside the village. There are plenty of good spots for those looking for more solitude along the entire beach up to the Hatteras Ferry. Look for the paved parking areas, not the sandy shoulder along the highway, for parking your vehicle.
Several threatened and endangered species, such as the piping plover and several species of sea turtles, nest on the island's beaches, and sections may be closed to the public in order to protect these nests. You will see NPS signs posting hours of access and closures at entry ramps where there are endangered species breeding and nesting. Be sure to pay close attention to the park regulations. Violations for intrusions into protected areas and for pets off leash are strictly enforced by park rangers. Check with the National Park Service Visitor Center on Ocracoke for the most updated information.
The Ocracoke Village
The perfect beach is Ocracoke's top draw, but the tiny village on the southern tip of the island is also part of what makes Ocracoke so appealing. The village surrounds beautiful Silver Lake, a snug harbor for sailboats, fishing boats and ferries. There are a few restaurants and public areas along the harbor, so you can sit back and enjoy a water view.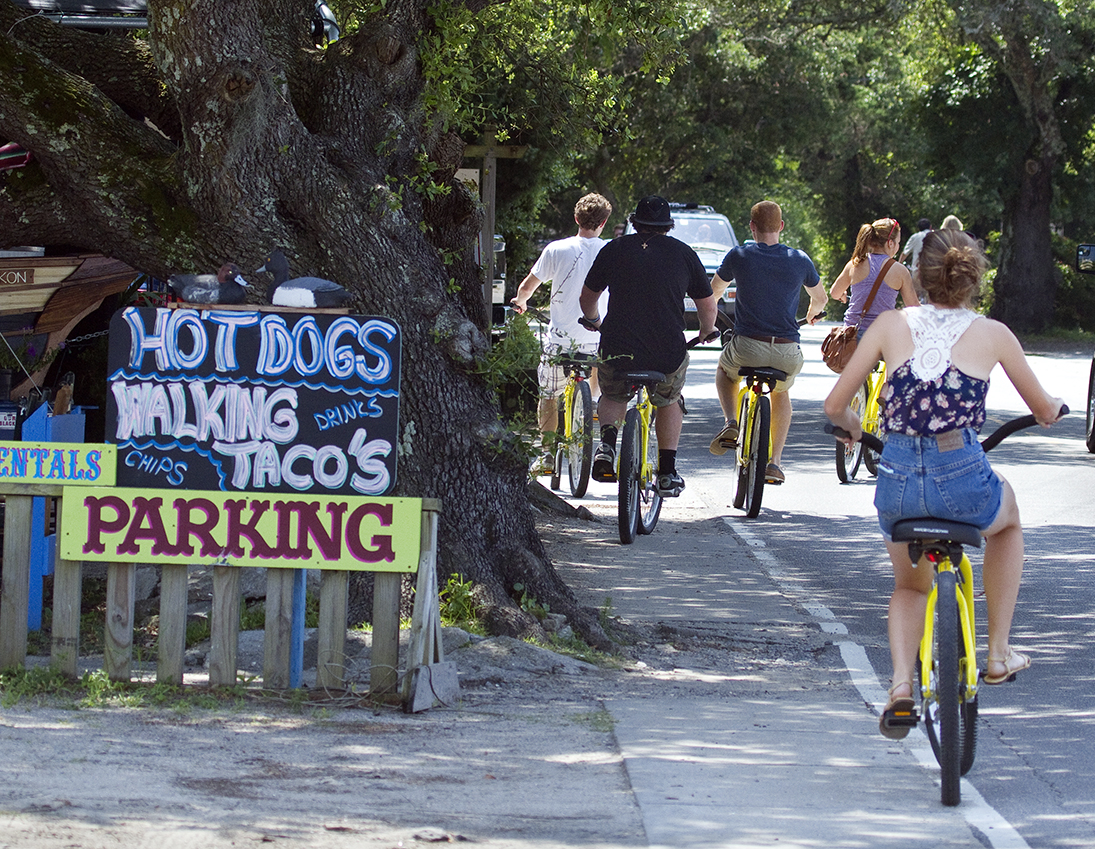 The first thing to do when you get to Ocracoke Village is park the car. Set out on foot, or rent a bicycle. The village streets are narrow, and the best way to get around is on foot or bicycle. The village is so small that you can pedal entirely around it in about an hour, but it will take you much longer because you won't be able to resist exploring all the back roads and popping into shops, galleries, eateries and attractions. Ocracoke Village is an explorer's heaven. You don't need a map because you can't get lost. Just go out exploring and you'll be delighted with what you find.
Ocracoke might be remote, but it has all the services you'll need. They have one gas station, a couple of grocers and gourmet stores, a liquor store, a hardware store, a bank, a health clinic, a school, a day care, churches, restaurants, bookstores and shops, a coffee shop, hotels, condominiums, campgrounds and rental cottages.
Attractions/Things to Do on Ocracoke
When you're puttering around in Ocracoke Village you'll find plenty to keep you entertained. You might want to start your visit at the National Park Service's Ocracoke Island Visitor Center, on the south end of the village, where you can find all the information you need about the island and the national seashore. You'll find an information desk, maps, brochures and exhibits. Ask about the special programs held in the summer months. Just behind the center is a little open area that's good for picnicking or relaxing. The National Park Service's boat ramp with plenty of parking for trailers is here too. Just around the corner is the Ocracoke Preservation Society and Museum, a great place to learn about the island and its history. This museum is in an old island home, and you'll find photographs, artifacts and exhibits. It's free to visit this museum. In fact, it's free to visit nearly all of Ocracoke Island's simple attractions.
The British Cemetery is a nice spot to stop when you're exploring the shops along British Cemetery Road. This is the gravesite of four British seamen who washed up on Ocracoke Island after their ship, the HMS Bedfordshire, was torpedoed by a German submarine in 1942. On the other side of the harbor is the picturesque Ocracoke Lighthouse. You can't climb this one, but it's a nice place to visit nonetheless. At 75 feet tall, this is the shortest of the Outer Banks lighthouses. It's also the second-oldest lighthouse in the nation.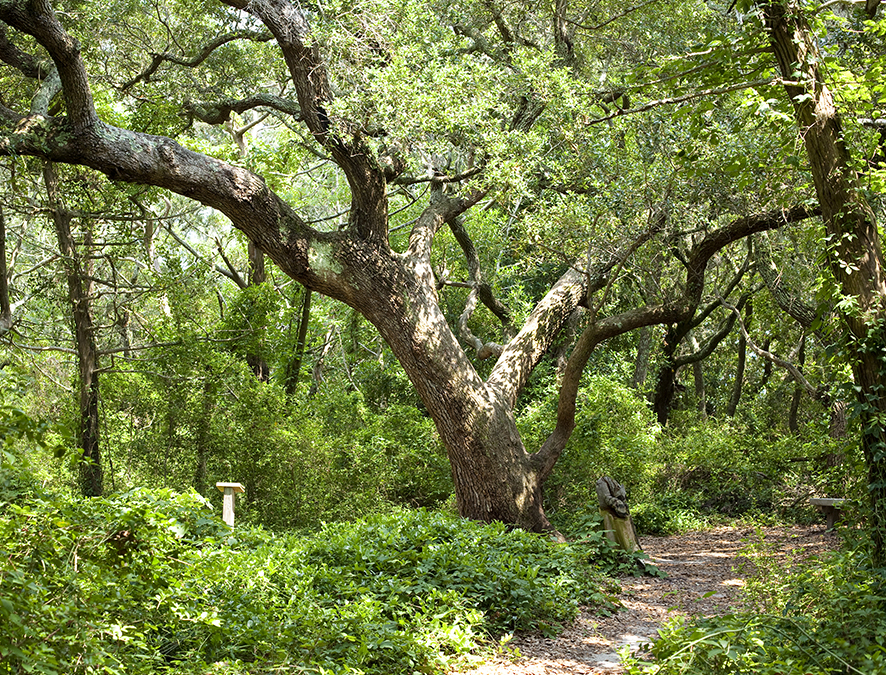 Out on N.C. 12 about 7 miles north of the village are the Ocracoke Pony Pens. You can see the horses here in their pens, but just look, don't touch. If you want to explore the natural side of Ocracoke, don't miss the Hammock Hills Nature Trail, a ¾-mile trail through maritime forest and salt marsh. You'll find it just across from the NPS Campground entrance.
Other things to do on Ocracoke Island include sailing tours, dolphin cruises, fishing charters, air tours, kayak tours and rentals, surfing lessons, yoga, getting a massage, shopping, sipping a latte or nothing.
Ocracoke is such a quiet little village, you'd think they'd roll up the sidewalks at night. But there is plenty of nightlife. Several restaurants stay open late, and many have live entertainment in the summer months especially.
If you can, catch the Ocrafolk Opry. On Thursday evenings in the summer, the Opry is presented by Molasses Creek, a local band that's nationally famous, and friends at Deepwater Theater on Schoolhouse Road. You'll hear bluegrass and folk music, a few tall tales and have a great time in this screened-porch setting.
A Daytrip to Ocracoke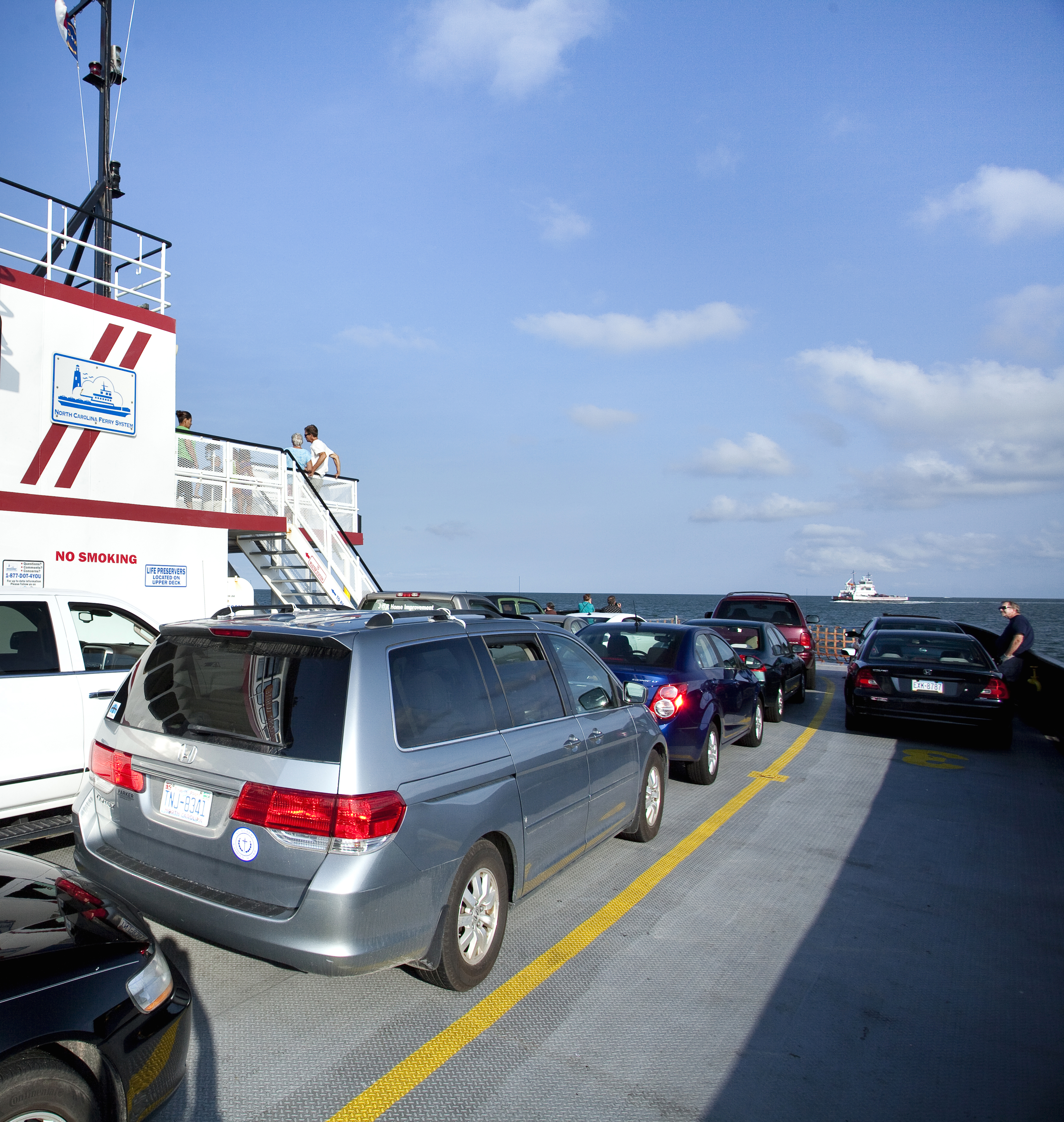 A daytrip to Ocracoke Island is recommended if you have the time and patience for the drive and the ferry ride. We personally wouldn't take young children from Corolla to Ocracoke just for the day, simply because there would be several hours spent sitting in the car waiting to get there. If you're coming from a closer area, like Nags Head or Hatteras Island, it's more do-able. Older children and adults will love the traveling as much as the visit to the island. From Corolla, it would take about three hours to get to Ocracoke – up to two hours of driving to reach the ferry, a little over an hour on the ferry and then 20 minutes of driving to Ocracoke Village. From the central beaches, it would take two hours or more to reach Ocracoke Village. Keep in mind that this does not include any wait time for the ferry. In the summer months, you may have to wait an hour or more for your place on the ferry. In the fall, winter and spring you rarely have to wait, unless you are traveling on a particularly beautiful day or holiday weekend.
Although the island offers plenty to do in just a day, often a day is not enough on Ocracoke. If you decide to stay you'll find plenty of accommodations. There are rental cottages, hotels, condominiums and campgrounds, including the National Park Service's oceanfront campground.
Portsmouth Island
Those who are staying for a while on Ocracoke Island should make a daytrip to Portsmouth Island, the island just south of Ocracoke. You have to take your own boat or hire someone to take you over, but it's definitely worth the effort. Portsmouth is an uninhabited island that's part of the Cape Lookout National Seashore. There used to be people in the village here, but they all gradually left because of the hardships of living in such a remote area. The people are gone, but their buildings remain and are maintained by the National Park Service. You can explore this ghost town's church, Coast Guard station, post office and a couple of old homes. The beach at Portsmouth is also incredible – wide and flat and full of shells. Portsmouth is notoriously buggy and there are no services or refreshments available, so this trip is really best for rugged adventurers.