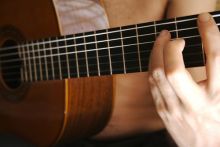 There are those who think that all the activities this area offers while the sun is shining are enough for any self-respecting visitor or local. Well, we're here to say that it's time to get your groove on...or back as the case may be. Outer Banks nightlife is a happening scene. No, it's not NYC, but, hey, if you want that frenzy go right on ... you sure won't be pairing it with Mother Nature's finest creation (yes, we checked and She said we are right on this one) or the ease of the lifestyle that comes along with it.
What's the Outer Banks nightlife scene like? Well, the better question might be what's your scene. Theater? Magic or comedy shows? Movies? Concerts? Art show openings? Nature-oriented events (ever howled with wolves? Bet you can't do that in the Big Apple ... and if so, you're in real trouble)? Late-night dining? Evening mini-golf (now come on — there are those who consider this fun nighttime entertainment ... and they might want to refer to the groove statement above)? Rubbing elbows at a sports bar? Rubbing of another sort (Stop It!), meaning a therapeutic massage under the stars? Karaoke? Bikini contests?
OK, if none of the above sets you atwitter, you must be awaiting the Real Outer Banks nightlife — The Bar Scene. And the more popular version — The Bar Scene with Live Musical Entertainment. Good, because we've got plenty of that! Even in the dead of winter, we've got that (surprised? then you need to get out more). You can also go dancing until your legs fall off with or without a partner. Nationally known musicians love the Outer Banks (ever heard of a little band called TR3...tours with Dave Matthews all the time...well, two of the fellows in it live here year round, so many nights you'll get to hear them at various bars around the area). But we also have incredible local talent who are regular performers and have very loyal followers. Just about any night during the summer you'll be able to find a hot bar scene; during the cooler months the variety might be smaller but the fun will be just as present. As annual events return to the Outer Banks, you can often count on them bringing new activities to shake up the nightlife scene for a day or two.
Outer Banks Nightlife for a Cause
And one other nightlife addition we should let you in on are the many Outer Banks fundraisers. When we say many, we mean many. Outer Bankers are generous people, in case you haven't already noticed. Whether it's for the local shelter or hospital or arts council or theater group or to feed hungry people or to buy conservation land or to support the schools or to do our part for national causes (yes, we could go on, but you get the gist), there's a fancy ball or unfancy oyster roast or some event to attend every month.
Of course, if you want the details on all this great stuff, it's all just a click away under the Nightlife listings. Have at it!
So, spend your day floating in, on or around the ocean — or whatever else you want! — but when the sun sinks low into those beautiful sound waters, go on and gussy up (or stay as you are — this is the beach after all) and hit the Outer Banks nightlife scene. And, if by the end of the night you're the one floating, make good use of the many taxi services, or call Uber. Our law enforcement officers do a fabulous job of getting drunk drivers off the road ... so be smart and responsible!