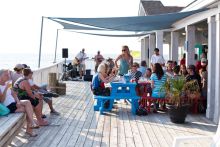 My mom and I took a mini trip to Ocracoke last year in the springtime. In typical Ocracoke fashion, we knew better than to check the ferry schedule, trusting instead that one would be along eventually. We waited in the line of cars at the ferry station, waiting for the next boat to arrive. One man among us grew visibly antsier as the minutes ticked beyond the ferry's scheduled arrival time but no ferry appeared. He darted between the car windows, demanding explanations and trying to coordinate when the ferry might arrive considering the direction of the current and its possible number of passengers.
My mom laughed, "He just needs to relax. He's on island time now."
It's true that schedules and agendas loosen up a little on the Outer Banks. While it's easy to be frustrated by that, it's even easier — and a heck of a lot more fun — to just roll with it. For many of us, this is vacation after all. Why rush? Here are a few steps to help you embrace that low-key local vibe.
Take Your Time with Outer Banks Activities
First, remember what your mother, teacher or pastor always told you: Patience is a virtue. This axiom applies to the Outer Banks, particularly in the summer. When encountering slow-moving traffic, don't drive like you're in the newest Fast and Furious. That's just unsafe.
Or are you visiting restaurants during the lunch or dinner rushes? If you don't have a reservation, don't expect to get seated right away. Trust the host/hostess's estimated wait-time and go from there. If you decide to tough it out, make the most of your wait by grabbing a drink from the bar, if available, and spending a few moments enjoying the sea-salty air outside.
Outer Banks locals pride themselves in their friendliness and sense of community. You may find that neighborliness is key. This means that if you want to grab a quick morning coffee, don't expect your order of a triple-shot toffee macchiato with almond milk to suddenly take priority when the barista is exchanging morning pleasantries with one of the regulars. Wait your turn, browse the newspaper's headlines, chat with the people around you, explain your order again if necessary — you will be caffeinated eventually.
Don't Rush Outer Banks Things to Do
Next, plan for wiggle room. Be understanding with the restaurant staff if you have to wait a few minutes upon arriving for your dinner reservation — there are a lot of tables needing their attention and rest assured that you will be fed a delicious meal.
If you have a flight out of a Virginia airport, factor in the traffic and variable schedules for transportation. Odds are it will take much longer than whatever Google Maps estimates.
Whether it runs on your ideal schedule or not, it's all good. Enjoy the longer meals out in the company of great family and friends. Leave for any meeting or appointment a little earlier to be on the safe side. If you show up early, use the surplus of time to grab a cup of coffee or check out any nearby Outer Banks attractions.
An Outer Banks Vacation for Everyone
Finally, one awesome part about the attitude on the Outer Banks is keeping time for leisure. As a result many Outer Banks businesses close in the off-season. Many local restaurants and attractions close for some portion of time between late November and Easter (late-March or early-April). If you're out and about during the off-season, the eateries, shops and attractions you want to visit may be closed or running on adjusted hours. Give them a call or check their websites or Facebook pages to learn about any changes. It prevents unnecessary heartbreak if you'd been hoping to get a very specific sandwich from a very specific deli only to discover that it's closed until March.  After all, local business work like fast-beating hearts to create a memorable vacation experience in the summer, and it's only fair that they take a breather too.