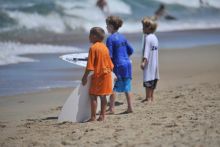 Let's go outside! After all, with an area known for its natural beauty, why wouldn't you want to be outside taking full advantage of every recreational activity you could think of? Each town on the Outer Banks offers its own outdoor fun, and you'll find out everything you need to know to take full advantage of it all here.
The Outer Banks' biggest draw is Mother Ocean and the sand that hugs her. On top of anyone's list of Outer Banks recreation, no matter if they're in Corolla, Nags Head, Manteo, Hatteras or Ocracoke, is getting in, on or near the water. That translates into sunbathing, swimming, body boarding, skim boarding, surfing, standup paddleboarding, kiteboarding, scuba diving, shelling, sea glass hunting, shore walking ... and of course just sitting and looking at those meditative waves rolling in. Of course, the ocean isn't the only body of water that beckons. There are also the sounds, which to many - parasailors, sailors, kiteboarders, clammers, boaters, windsurfers, kayakers and Jet Skiiers, among others - are just as attractive.
Feel like staying dry? No problem! Golfers will find about nine great courses in the area, and of course there is putt-putt for entertaining the little ones. Maybe fishing is the ticket. With piers, bridges, shorelines, docks, bays, head boats and offshore and inshore charters, you'll find plenty of opportunities to cast a line. Along a similar line, a dolphin or sightseeing tour is a great way to spend an afternoon or evening. The Outer Banks is also dotted with gorgeous nature preserves that let you experience the wilderness within marshes, maritime forests and pristine sandy beaches. You can hike on the trails in some of them while others invite you to stroll freely.
The Great Outer Banks Nature Scene
If you're a jogger, walker or biker, you'll love this place. Each town has either designated bike paths or back roads that are so lovely you'll forget all about those last few miles to go. In some areas, such as Roanoke Island, Duck and Ocracoke, biking or walking is actually a preferred way to get around. Parking isn't an issue when you're on a two-wheeler or your own feet, and the slower pace allows you to experience more of the area than you ever will in a car. All you competitive biking sorts reading this: Just because the Outer Banks is relatively flat does not mean you're in for a cushy ride. When you have one of our strong head winds blowing on you, which is most of the time, you might as well be doing a long uphill pull.
Kids stay happy here with skateboard parks, racetracks, playgrounds, interactive exhibits, climbing walls, camps, beading shops, paint-your-own pottery places and watersports lessons. And we all know that behind every happy kid is a happier parent.
So, welcome to the Outer Banks. Enjoy yourselves! There are a million ways to have fun here, and many of them are outside!