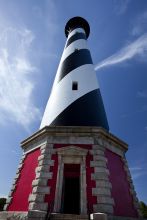 Hatteras Island is the playground of the Outer Banks. As home to the Cape Hatteras National Seashore and Pea Island National Wildlife Refuge, this island has the most open space and more recreational opportunities than the other Outer Banks areas. About 75 percent of Hatteras Island is undeveloped — and much of that land is accessible to the public for activities like fishing, water sports and observing nature. Naked sand dunes, wide beaches, thick maritime forest and vast marshlands are left in their natural state – something rarely seen on the coast these days. If you love being outdoors and in the natural world, you will love it on Hatteras Island.
Hatteras Island feels like a real island retreat. Its vibe is much different from that on the northern beach communities, even though it has many of the same vacation offerings. Hatteras has everything you need for a comfortable vacation: restaurants, grocery stores, shops, outfitters, rental homes and hotels. But Hatteras on the whole has a much more laid-back attitude, probably due to its popularity with outdoorsy types and the water sports crowd. It's more relaxed, a little simpler and definitely slower-paced.
Whether you're staying on the island for the duration of your vacation or just visiting for a day, you'll be astounded by the natural, cultural and recreational opportunities here. When you're here, be sure to pick up a copy of the Hatteras Island tabloid that you'll see in stands all over the island. If you'd rather have a holdable copy of all the information we have on http://www.hatterasguide.com, this is your source. Like the website, it lists all the restaurants, shops, attractions, recreational outfitters and accommodations in detail.
Natural Areas on Hatteras Island
Cape Hatteras National Seashore contributes greatly to Hatteras Island's appeal. Cape Hatteras National Seashore's open space allows visitors the opportunity to explore nature, to camp in the open air, to fish, to hike, to kiteboard and windsurf, to observe wildlife and to enjoy the beach, often in their own personal space. But the park is not a recreational free-for-all. While part of its mission is to provide for human recreation, the other part of the Seashore's mission is to preserve the natural habitat for birds and wildlife. Humans must share these lands with waterfowl, shorebirds, sea turtles, marine mammals and other wildlife. The National Park Service must carefully balance and preserve this fragile environment and its wildlife with the millions of annual visitors and their recreational activities, so be alert for any of their rules and regulations.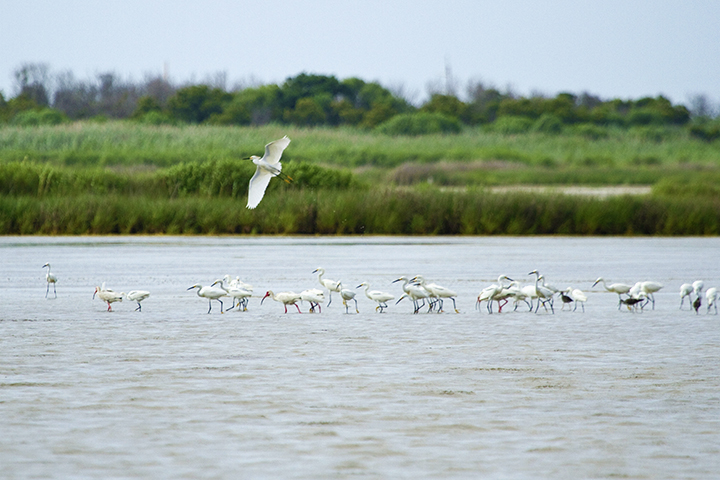 Pea Island National Wildlife Refuge also makes up a large chunk of Hatteras Island. The refuge's mission is primarily that of protecting wildlife, but it is also open to visitors to enjoy environmentally friendly recreation like hiking, birding, paddling and enjoying the beach.
Of course, water is the highlight of the natural world on Hatteras Island. There are numerous public accesses for enjoying the shorelines and waters of both the Atlantic Ocean and the Pamlico Sound. The National Park Service has access maps in its visitor centers as well as a great visitor-oriented newspaper that gives information on the area and activities. The National Park Service maintains numerous beach accesses on the island, including a bathhouse at the Cape Hatteras Lighthouse site and a bathhouse at the Haulover site on the soundside on the south end of Avon.
You can drive on the beach in certain areas of the Cape Hatteras National Seashore, but you must have a permit. Do not risk the fine by driving out on the beach without one! The places you are permitted to drive change frequently during hatching and breeding seasons, and the Park is very serious about protecting these closed areas. Know where they are before you go. There are several ramps where you can take a four-wheel-drive vehicle out to the beach. This is perfect for fishing or just enjoying a beach day because you can take everything you need right to the spot you want. This is also a great way for disabled visitors to enjoy the beach. Just be sure that you only go out in a four-wheel-drive vehicle. If you've never driven on the beach before, get some pointers before you go. Ask a local or a park ranger for some beach driving tips. And if you get stuck, someone will usually come along and pull you out, or you can call the island's towing service. There are also four-wheel-drive access roads to the sound. To find the beach access ramps and soundside roads, ask for an Off-Road Driving Map at a Cape Hatteras National Seashore Visitor Center. Go to http://www.nps.gov/caha/planyourvisit/beachactivities.htm#ORV for up-to-date access info.
Hatteras Island Villages
Hatteras Island is home to seven small, unincorporated communities, each of them unique in character. The villages are spaced out along N.C. Highway 12, the island's main thoroughfare.
When driving on to Hatteras Island from the north, you first arrive in the Pea Island National Wildlife Refuge. The visitor center, a good starting point for visits, is about 4 miles south of Oregon Inlet.
Continuing along N.C. 12 past the refuge will eventually bring you to the village of Rodanthe [ro-DANTH-ee]. Rodanthe blends seamlessly into the village of Waves, which in turn blends into the village of Salvo. To the casual visitor, these three villages really feel like one village, and that's why they're often called the Tri-Villages. But to longtime residents and natives, the villages and their borders are quite distinct and discernible. The Tri-Village area presents quite the mix of accommodations, from high-end rental properties and resort campgrounds to low-key cottages and no-frills motels. These villages are simple and quiet, but they are by no means dull. There are plenty of amenities and recreational opportunities.
About 10 miles south of Salvo is the village of Avon. This village feels like the commercial hub of Hatteras because it is home to several shopping centers, a major chain grocery store, and a movie theater. It offers numerous shops and restaurants, several recreational outfitters and tons of vacation rentals.
A couple of miles south of Avon is the village of Buxton. This village is popular with anglers because it's the closest village to the excellent fishing grounds of the Cape. It's also popular with tourists because it's the home of the Cape Hatteras Lighthouse. Buxton offers shops, restaurants and amenities, and it has the most motels of any of the Hatteras Island villages. You'll notice thicker vegetation in this area because this is the home of Buxton Woods, a rare maritime forest.
A short way down N.C. 12 is the village of Frisco, the solemnest village of Hatteras Island. There are a few restaurants and a few shops, a famous fishing pier and an executive golf course, but mostly Frisco has peace and quiet for those who want to relax.
And, finally, just south of Frisco is Hatteras Village, typically called simply "Hatteras" (or "Hattress" on native tongues). Hatteras Village has somewhat of a split personality. The village sits right along the banks of Hatteras Inlet and has long been a fishing village. Fishing still reigns supreme here, mainly recreational, but on the other hand, upscale tourism is filtering in, in terms of gigantic oceanfront vacation homes and upscale shopping. Slow down when driving through the island villages. There's a lot to see and you don't want to miss any of it. Plus, because there is only really one main road through these villages, you also have to share it with cyclists and walkers.
A Hatteras Island Daytrip
If you're staying elsewhere on the Outer Banks, a daytrip to Hatteras Island is highly recommended. Many of the island's die hard return vacationers started out as daytrippers.
You can see a lot of the island in a day. Hatteras Island is easily accessible from the northern Outer Banks, thanks to the Oregon Inlet bridge. If you're coming from Ocracoke Island, the ferry ride is a bit over an hour. From Corolla, expect it to take a little over an hour to reach the bridge that leads to Hatteras Island. From the central beaches, it would take about 20 to 30 minutes, depending on where you are. Just follow N.C. Highway 12.
The Whalebone Junction Visitor Center in Nags Head (at the junction of N.C. Highway 12 and U.S. Highway 158) is a good place to stop and ask questions or pick up informational brochures for Hatteras Island. It will take you about an hour to drive the length of the island, but there are many places you'll want to stop along the way, so expect it to take longer.
History/Cultural Attractions on Hatteras 
Your first stop should be the Chicamacomico Life-Saving Station in Rodanthe. The station is the most complete existing example of the life-saving stations that were built along the coast in the late 19th century. The 1874 station was one of the original life-saving stations built along the Outer Banks and it operated until 1954. The station has been restored, and it is a museum and historic site, and you'll learn a lot about the life-saving service on a visit here. The summer programs, if you can catch one while you're there, are great.
No trip to Hatteras would be complete without climbing the Cape Hatteras Lighthouse. The black-and-white spiral-striped lighthouse is one of the most famous lighthouses in the nation. It rises 208 feet in the air, and the view from the top, of the sea meeting the land and the Outer Banks landscape, will be etched into your memory forever. Even if you don't want to climb to the top, a visit to the museum and just a look at the lighthouse is worth the visit. There are a few other historical points of interest on this site, so have a look around.
We also suggest visiting the Frisco Native American Museum in Frisco. This small but chockfull museum preserves the Native American history of Hatteras Island and the nation. The museum has many artifacts from the Native Americans who once inhabited Hatteras Island, including a dugout canoe, tools, instruments and more. The galleries include information on Native Americans across the United States as well as arts and crafts from around the nation. The gifts shop has a great selection of Native American-made items. Be sure to walk on the nature trails behind the museum.
The Graveyard of the Atlantic Museum in Hatteras Village is worth a visit too. You'll learn fascinating history about famous shipwrecks, such as the USS Monitor, the U-85, Blackbeard's Queen Anne's Revenge and even the Titanic. You can see an exhibits on coastal history and culture and enjoy participating in year round activities. Make sure you visit the gift shop and read the historical markers in the parking lot. 
Hatteras Island Outdoor Recreation
We definitely suggest some sort of outdoor recreational activity while you're on the island. Anyone up for kiteboarding lessons? A kayak eco-tour? Pier fishing? How about a guided bird walk at Pea Island or a twilight standup paddleboard excursion? There are many, many options, so just pick one. Even something as simple as a beach walk counts. If you don't know where to start, in the summer months, Cape Hatteras National Seashore rangers and the staff at Pea Island National Wildlife Refuge offer programs to help people get involved in the natural world, so be sure to check into these. Their annual newspaper, filled with interesting articles as well as specific information on programs/sites, can be picked up at their visitor centers.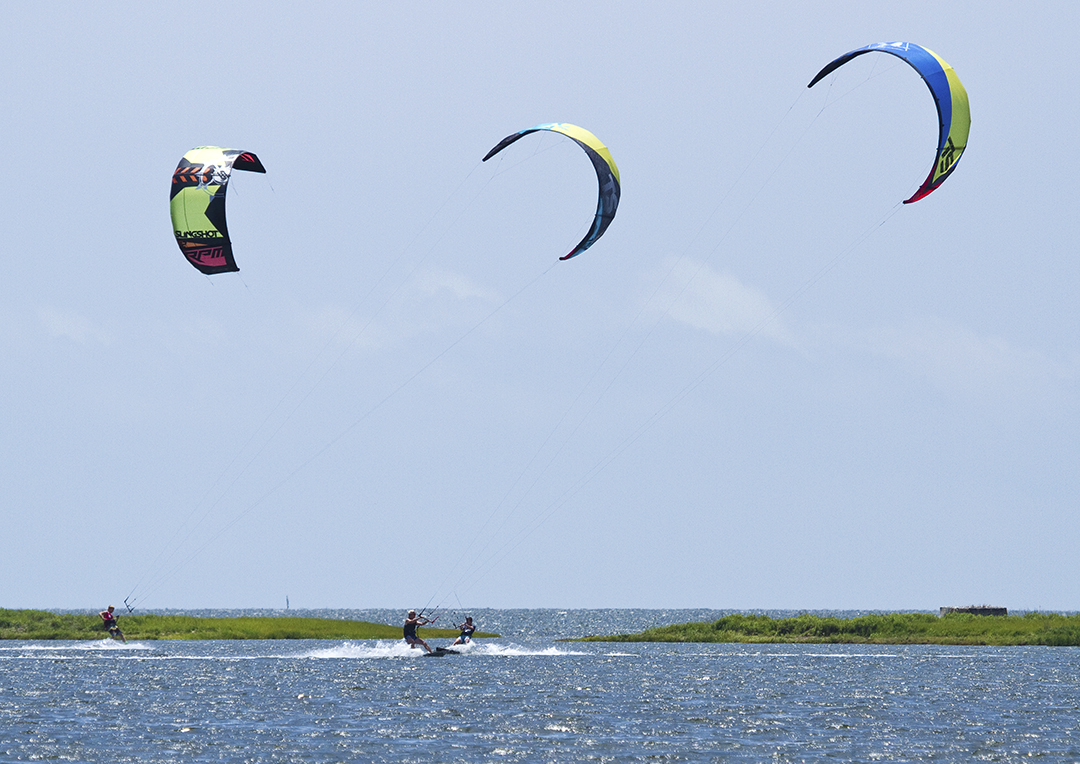 Hatteras Island is renowned for its outdoor recreational opportunities. It's one of the best surfing spots on the East Coast when the conditions are right. Even if you don't surf, it's always a treat to watch the surfers for a while. You'll know there are good waves if you see a ton of cars lined up along the highway in the middle of nowhere; the surfers park along the roadside and scramble over the dunes to the breaks.
Hatteras is also a seriously respected kiteboarding destination. Kiteboarders over the world recognize this as one of the top places in the world for the sport. There are several outfitters on Hatteras who offer kiteboarding lessons and camps. Other popular outdoor Hatteras Island activities include paddling, swimming, beach walking, birding, nature hiking and fishing, fishing, fishing.
Shopping – Restaurants – Staying Over on Hatteras
If you're drawn to the natural, cultural, historical and recreational opportunities of Hatteras Island, you'll find all the support services you need. Shops, restaurants, hotels and services are all locally owned and operated, which allows for character and personal service. You could definitely make a day of shopping on Hatteras Island; there are hotspots in every village and something for everyone. Go to http://www.hatterasguide.com for complete details, written by locals who really know this place and updated annually. Also, check out http://www.outerbanksthisweek.com to see everything that's happening while you're here.