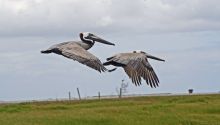 There are two sides to every coin, and the Outer Banks is no exception. On one side of the barrier islands is the deep, majestic Atlantic Ocean with its salty flavor and moody waves and currents. One day it can be as calm as a lamb, and the next it can be as wild and roaring as a lion.
On the other side of the islands is the sound, the body of water between the barrier island and the mainland. The sound is a brackish mix of salt water from the ocean and fresh water from inland rivers, and it's more predictable than the ocean. Its waves are wind-driven rather than brought in by swells from the open sea. It's shallow and warmer the ocean.
The Albemarle Sound is on the northern Outer Banks and includes the smaller Currituck Sound on the northernmost Outer Banks, Croatan Sound on the west side of Roanoke Island and Roanoke Sound on the east side of Roanoke Island. Albemarle Sound connects to Pamlico Sound around Oregon Inlet. Pamlico Sound is the large body of water behind Hatteras and Ocracoke Islands.
A soundside experience differs from the ocean in wave action, water depths and currents. Generally the sound is more shallow and calm than the sea so it's more popular with boaters, anglers and watersports enthusiasts like kayakers, paddleboarders, kiteboarders and windsurfers. But the wind can kick up some choppy currents and change the depth, so treat all water excursions with care.
If you want to enjoy a soundside experience, there are many ways to do it. You can take a boat trip, like a sailing tour, sunset cruise, dolphin tour or inshore fishing trip. You can rent Jet skis, a boat, a kayak or a standup paddleboard. You can even take a Parasailing tour or a kiteboarding lesson and fly above the sound. The sound is the place to go clamming or crabbing, and it's the ideal place for swimming with small children, who can be overwhelmed by the noisy ocean. We recommend that you bring lots of sunscreen and water or other liquids when you plan a sound day as there is rarely any shade available.
The best thing to do on the sound side of the Outer Banks is to watch the sunset. In many areas you can see the sun slip right into the water. At soundside restaurants in Duck, Nags Head, Roanoke Island, Avon, Buxton and Hatteras you can watch the sunset while enjoying a meal and cocktails.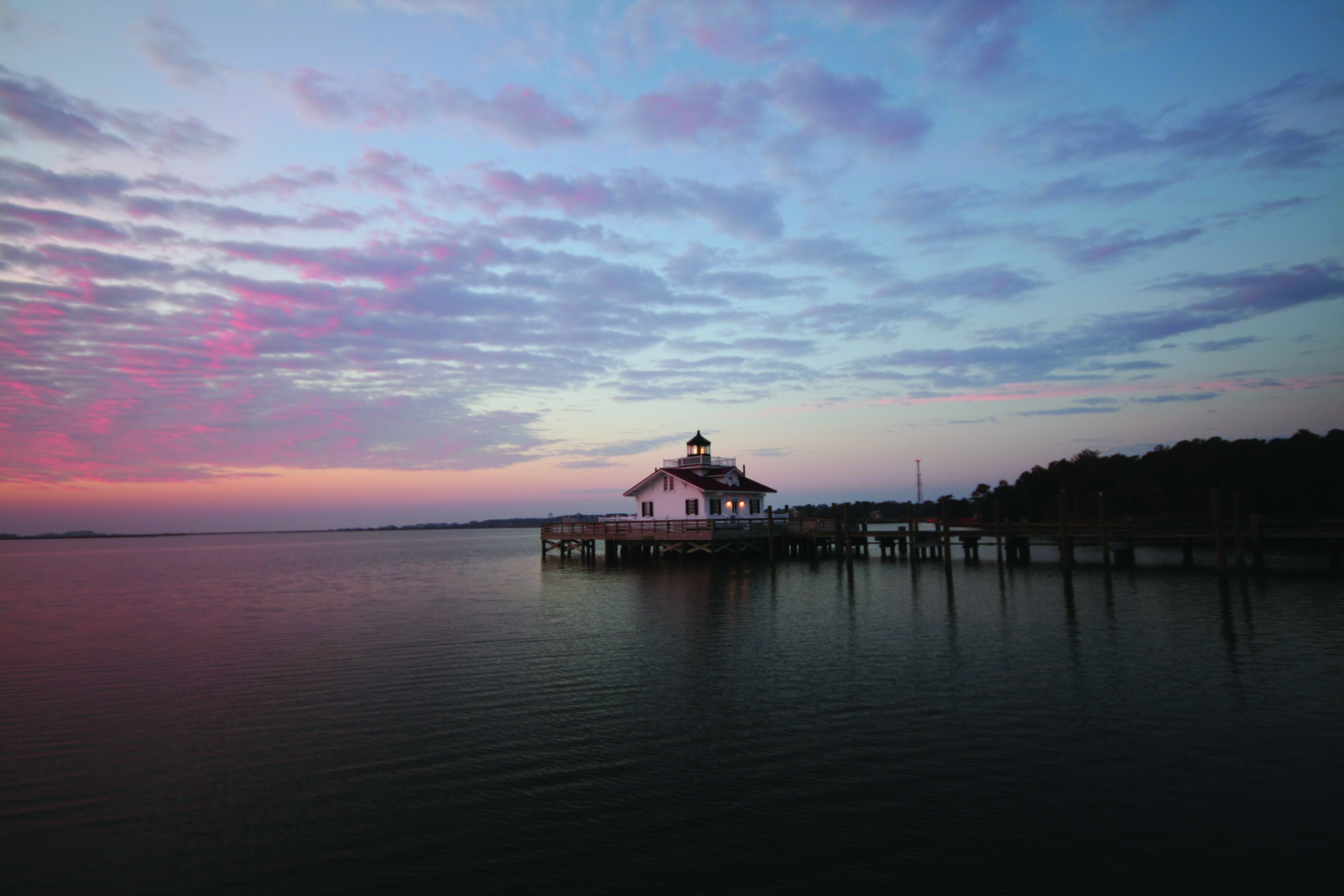 If you're looking for access to the sound, you can rent a house on the sound, or you can look for a public soundside access point. Here are some of those:
COROLLA
Historic Currituck Park / Whalehead Club
DUCK
Duck Town Park
KITTY HAWK
Windgrass Circle Park
Bob Perry Road
KILL DEVIL HILLS
West Hayman Street
West 3rd Street
West Arch Street
Dock Street
Second Bridge on Colington Road
Nags Head Woods - several trails lead to the sound
NAGS HEAD
Jockey's Ridge State Park/Soundside Road
West Danube Street
Harvey Estuarine Access, milepost 15.5 next to Soundside Event Site
Nags Head Estuarine Site – Nags Head Manteo Causeway
Melvin R. Daniels Bridge (Little Bridge) – Nags Head Manteo Causeway
National Park Service boat ramp at Oregon Inlet Fishing Center
ROANOKE ISLAND/MANTEO
Old Swimming Hole, Airport Road next to N.C. Aquarium
Washington Baum Bridge, west side under the bridge is a boat ramp and boardwalk
Roanoke Island Festival Park boardwalk
Town of Manteo boardwalk and Roanoke Island Maritime Museum
HATTERAS ISLAND
Salvo Day Use Area, N.C. 12 south of Salvo
Haulover Access (Canadian Hole), N.C. 12 south of Avon
Sandy Bay, N.C. 12 south of Frisco
Cape Hatteras National Seashore has several soundside ORV access points
OCRACOKE ISLAND
National Park Service boat ramp
Springer's Point