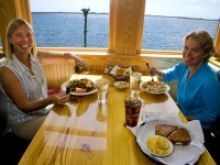 When visitors here ask about the best Outer Banks restaurants, locals may hesitate.
Don't worry. It has nothing to do with the food served here. It's because their brain immediately floods with countless Outer Banks restaurant choices, from casual cooking to creative cuisine.
While each town on the Outer Banks has its own dining character — for example, Hatteras Island is known as a more casual, laid-back place, Ocracoke boasts not one chain restaurant and Duck has an impressive concentration of great Outer Banks restaurants all within a few blocks - the overall dining scene is more than fabulous. Honestly, for a resort area on the edge of the continent, the Outer Banks has attracted world-class chefs and imaginative restaurateurs. Creativity reigns, and diners are the happy beneficiaries.
Outer Banks restaurant choices range from drop-in burger joints to award-winning, fine-dining restaurants. As the popular saying goes, "It's all good." Naturally you'll discover plenty of seafood selections varying from traditional fried fish with slaw to eel-filled Japanese dragon rolls to magnificent concoctions of seafood that compete with any big-city offering. And most of the seafood you eat was caught just that morning. Now, that's fresh! You can warm up with clam chowder, savor mesquite-grilled tuna or fill up on steamers. Meat lovers will appreciate the local barbecue haunts and plentiful prime rib specials. From pizza to lobster, you'll satisfy any morning, noon or night craving.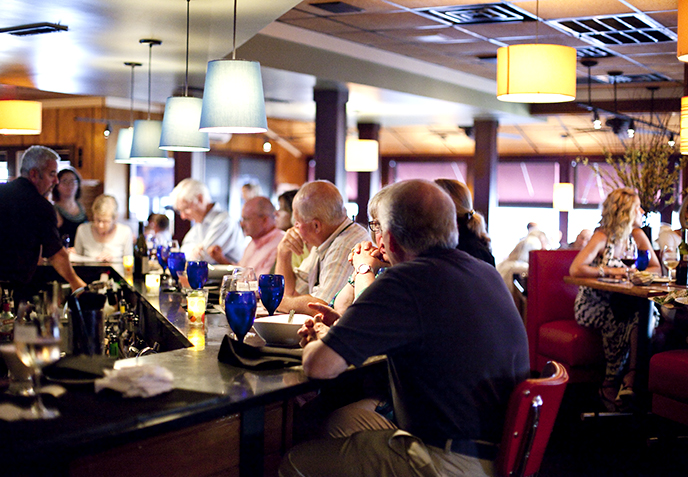 What about dining attire? It's not unusual for casual clothing to be worn in fine Outer Banks restaurants. This is the beach after all! But there are a few places where you'll feel much better a little more gussied up. If in doubt, call and ask.
And here's an important note if you haven't been to these shores in awhile: Roanoke and Hatteras islands can now serve liquor in their dining establishments. The rest of the Outer Banks restaurants have been able to offer a full bar for years, so the leveling of the playing field is a good thing.
And one more important note: Many restaurants do not take reservations at all, and there are some that absolutely require them. Read the descriptions provided in each section for details. You should know that dining out in extremely large parties can be taxing to some restaurants, while others handle it with ease. If you dine out en masse, always call ahead to make sure your Outer Banks restaurant of choice can accommodate a large party (and to give them a warning that you're coming). And if you're dining with a group of any size, most restaurants require that everyone in your party be present before they seat you.
Outer Banks Dining Tips
These tips are for dining out in the height of summer, when restaurants are definitely the busiest. During fall, winter and spring you'll rarely have a problem getting into your restaurant of choice.
·       Reservations Most Outer Banks restaurants focus on first-come, first-served seating, though some do take reservations. If you have your heart set on a particular restaurant, call ahead to see if they take reservations. Those restaurants that do reserve tables usually fill up quickly. If you think you'd like to reserve a table at one for dinner, call as early as possible.
·       Prime Hours The majority of diners want to be sitting down to eat between 6 and 8 p.m., but everyone can't eat at the same time. If you don't want to wait for a table, go out early or late. Most restaurants open for dinner between 4 and 5 p.m. and don't close until 9:30 or 10 p.m. in the summer.
·       The Waiting List One note about waiting for a table: If, in the height of summer, you get to an Outer Banks restaurant that has a 45-minute waiting list, you should probably stick it out rather than drive around looking for a restaurant that has a shorter wait. In the summer most everyone has a waiting list, and you'll waste time driving around.
·       Busiest Nights Weeknights tend to be the busiest nights in Outer Banks restaurants in the summer months. This is because of weekend check-in days. Most people arrive on a Saturday or Sunday and don't want to go out the day they get in or the day they're leaving. So you can bet that most people go out Monday through Thursday nights. That said, you can also bet that pizza delivery restaurants are busiest on Saturday and Sunday nights. Plan accordingly.
·       Early Bird Specials If you're willing to go out early, typically between 4 and 6 p.m., you are likely to catch some very good deals. Many restaurants offer special discounts in the early hours to encourage patrons to come out before the nightly rush.
·       Do Lunch Eating out for lunch instead of dinner is a great way to avoid the summer crowds and save a little money. Plus, restaurants are more kid-friendly at lunch than at dinner.
·       Vegetarians Vegetarians and vegans have far fewer options than they should on the Outer Banks, but that doesn't mean you'll starve when you're here. Most establishments offer little more than the obligatory pasta dish for vegetarians, but some restaurants have some real vegetarian fare. A few of the best: The Rundown Café in Kitty Hawk, The Seaside Gourmet in Kitty Hawk (this one gets the vegetarian award even though it's take-out only), The Thai Room in Kill Devil Hills and The Full Moon Café in Manteo.
·       Psst. A Secret: Get off the beaten path. Roanoke Island has many great restaurants, and they're often much less crowded than the restaurants on the beach. The same goes for the Currituck mainland.