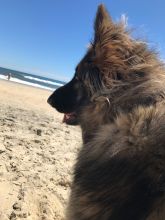 Your dog is your best friend and you take him everywhere you go. Of course you want him with you to run and play at the beach. He can enjoy the ocean breeze, dig in the sand and splash in the ocean waves. But before you take your four-legged friend with you, you should know that some Outer Banks towns are more dog friendly than others. Each town has different rules and restrictions by which you must abide. Dogs are allowed certain times of the year on all the beaches throughout the Outer Banks, and below are the specific details.
A few tips to remember:
On all the beaches you are expected to pick up your dog's waste and dispose of it in a designated trash can. Some towns provide waste bags at beaches accesses and others do not, so be sure to bring your own. Do not bury dog waste or throw in it in ocean!

Be mindful and respectful of other people, all of whom don't love dogs as much as you do.

If you're going to be out there a while, don't forget to provide fresh water and shade for your dog.

Hot sand can burn your pet's paws, so don't take him out in the hottest part of the day.
Corolla
Dogs are allowed on the beaches of Corolla and Corova year round but they must be on a leash. There are no leash length requirements.
Duck
Duck is by far the most dog-friendly beach on the Outer Banks. Dogs can be on the beach year round, any hour of the day and unleashed as long as they are under the watchful eye of their owner.
Southern Shores
From May 15 to September 15, dogs are only allowed on the beaches in Southern Shores from 6 p.m. to 9 a.m., and they must be on a leash always. There are no time constraints from mid-September through mid-May, but dogs must remain on a leash.
Kitty Hawk
Dogs can be on Kitty Hawk beaches year round, and owners must have a bag for waste removal on them at all times. From the Friday before Memorial Day until the day after Labor Day, dogs must be on a leash no longer than 6 feet between the hours of 10 a.m. and 6 p.m.
During the rest of the year, dogs must be on a leash retractable to 12 feet. Although, if the dog won't disturb other people on the beach and the owner is constantly within 30 feet and in control of the dog, then the dog can be taken off leash. The owner must be in possession of a leash while on the beach. All dogs must display a current rabies tag.
Kill Devil Hills
While dogs are allowed to be on the beaches year round, between Memorial Day and Labor Day no dogs can be on the beach from 9 a.m. to 6 p.m. unless used to aid a handicapped person. At other times and throughout the rest of the year, dogs must be on a leash and controlled by the owner.
Nags Head
Nags Head allows dogs on the beach year round anytime as long as they remain on a leash not to exceed 10 feet.
Cape Hatteras National Seashore
Dogs are welcome on the beaches year round and must be on a 6 foot leash. They are not allowed within any resource closure, on designated swim beaches or in any buildings.