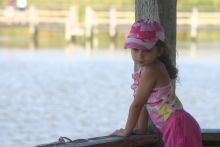 You're on vacation – you've got hours of free time. It's the perfect time to try something new or do something just for the fun of it. We promise you'll never be bored on the Outer Banks. When you've exhausted the obvious things to do with the family — the beach, the pool and ice cream — check out these ideas for entertaining everyone, young and old alike. Check out Outer Banks This Week for everything you need to know plus a rundown of all the events happening while you're here.
Roanoke Island
Roanoke Island is the most family-friendly location on the Outer Banks. You could easily spend two or three days exploring all this island has to offer.
The Lost Colony. Families love this summertime outdoor drama. Not only do you get a history lesson, but also the show is immensely entertaining. Wait til you see the fight scene and the girl who catches on fire. The show runs Monday through Saturday nights from late May to late August. Tickets are affordable, and snacks, beer and wine are available at the concession stands. Call (252) 473-6000 for tickets.
The Elizabethan Gardens. All ages love The Elizabethan Gardens. Older people appreciate the peaceful setting, and the younger ones in the family love running along the paths, climbing trees and exploring. In the summer months you'll find family-friendly programs. Call (252) 473-3234 for hours and admission fees.
Fort Raleigh National Historic Site. Right next to the gardens, this museum offers an educational tour through the island's history. You can also explore a restored earthworks fort and take a walk down a shaded path to the sound.
Roanoke Island Festival Park. Climb aboard the Elizabeth II sailing ship, see a film called The Legend of Two Path, interact with costumed interpreters, dig for fossils, discover American Indian Town and more. The grounds offer a boardwalk along the water and several picnic areas. In the summer months you'll also find special children's performances here. (252) 475-1506.
Island Farm. Island Farm is a restored farm that depicts island life in the the mid-1850s. Depending on the day, kids can enjoy ox-drawn wagon rides, cooking, toys, crafts and more. It's open Tuesday through Friday. (252) 473-6500.
North Carolina Aquarium on Roanoke Island. Hands down the most kid-friendly place on the Outer Banks. Animals and sea life everywhere, and the aquarium has programs daily, some free, some for a fee. Call (252) 473-3494.
Downtown Manteo. A playground, boats to look at, a lighthouse and maritime museum to visit, ice cream and sweets shops, al fresco dining, a skate park, boat tours, dolphin tours. Need we say more?
Pirate Adventures of the Outer Banks. Learn the pirate ropes on land, then jump on board The Sea Gypsy for a pirate-style boat tour. Call (252) 473-2007.

The Pioneer Theater. This classic movie house in Manteo features family-oriented films – all new releases – at affordable ticket prices ($7!) and cheap snacks! One movie per week shows nightly at 8 p.m. Call (252) 473-2216.
Photo below: Roanoke Island Maritime Museum offers sailing classes for kids and family sail nights in the summer months.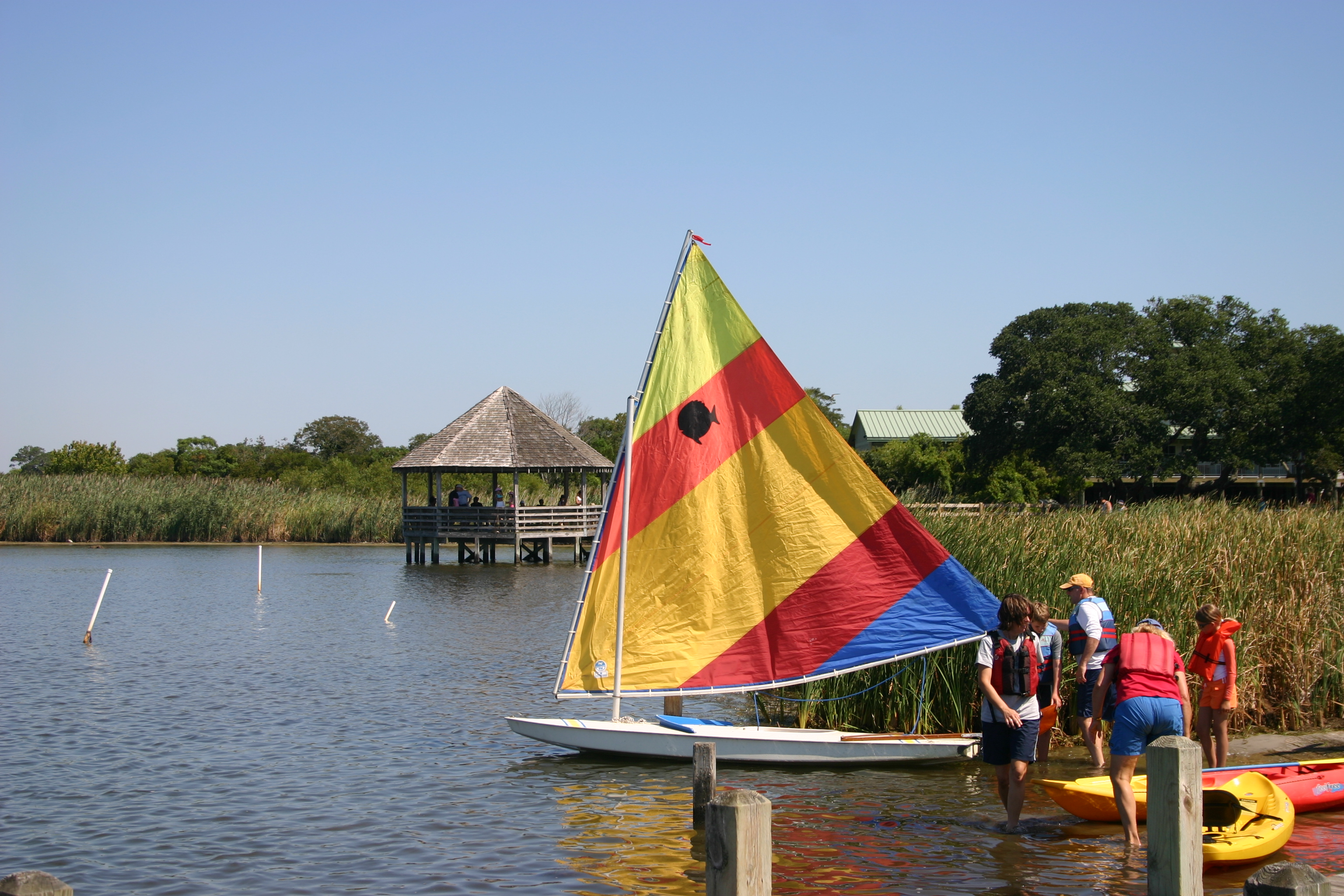 Environment and Outdoors
Cape Hatteras National Seashore Interpretive Programs. The National Park Service offers free interpretive programs at its Cape Hatteras National Seashore Visitor Centers. Call (252) 473-2111 to connect to a visitor center.

Jockey's Ridge State Park Environmental Education Programs. Besides being the most fun place on the Outer Banks to run, climb and roll in the sand, Jockey's Ridge State Park in Nags Head offers dozens of environmental education programs a week for all ages. The programs are free. Register by calling (252) 441-7132. Programs can fill up fast, so register early.

Outer Banks Center for Wildlife Education Programs. In addition to a fun museum, this center in Corolla offers free programs for all ages year round, daily in the summer. They fill up fast so register early. Call (252) 453-0221.
Pea Island and Alligator River National Wildlife Refuge Programs. In the summer months, the wildlife refuges offers nature-oriented programs, canoe tours, guided bird walks, tram tours, bear-watching trips, red wolf howling trips and more. In October and again in early December, the refuges put on the Wings Over Water Wildlife Festival with dozens of outdoor-oriented programs. Call (252) 216-6494.
Dolphin Tours. A summer or fall boat tour to look for dolphins is always a hit. Nags Head Dolphin Watch, (252) 449-8999; Capt. Johnny's Dolphin Watch, (252) 473-1475; Paradise Dolphin Cruises, (252) 573-0547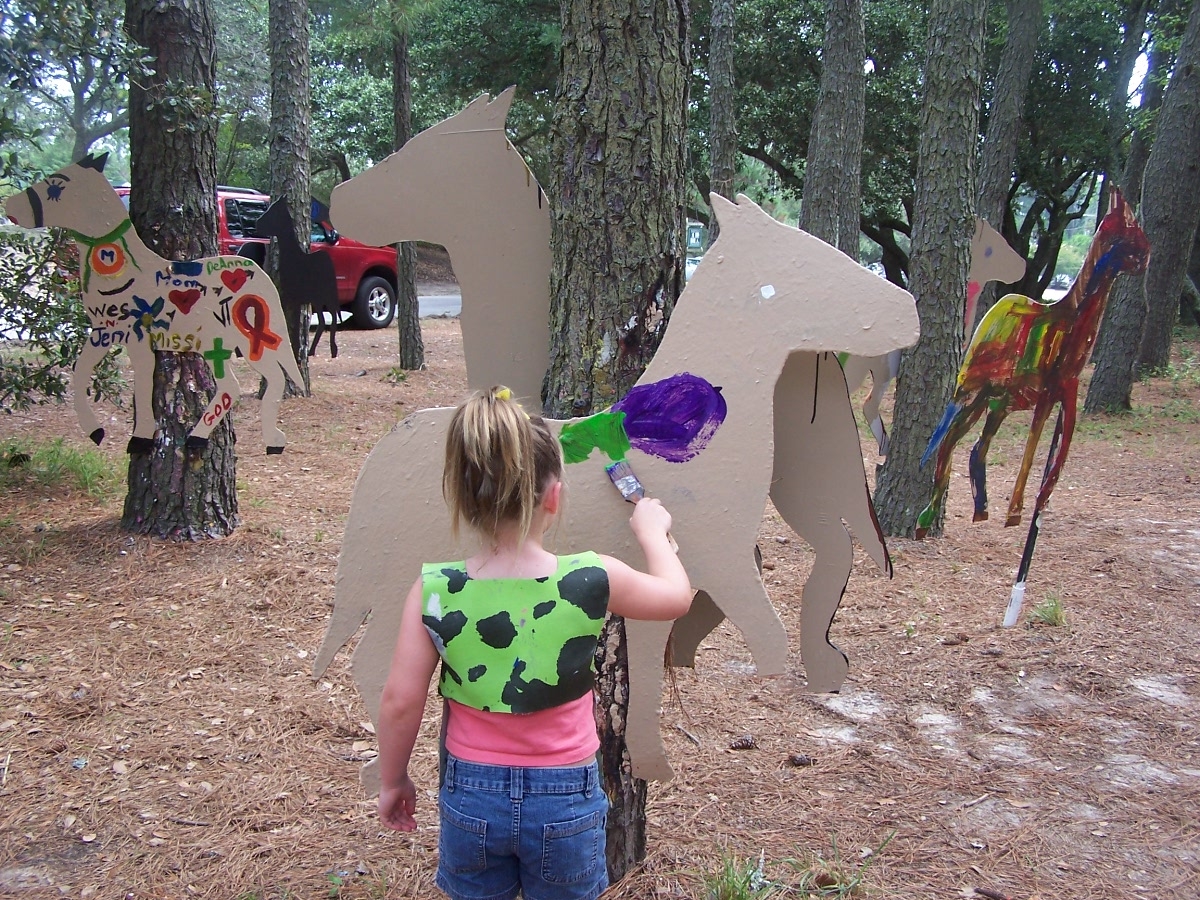 Wild Horse Watching. Tours to the four-wheel-drive area north of Corolla to see the wild horses are given in Suburbans, Jeeps, open-air trucks, kayaks, eco-friendly vehicles and even on off-road Segways. Click here to find a wild horse tour. On Ocracoke Island, you can see ponies in the Ocracoke Pony Pens along N.C. Highway 12.
Photo at right: The Corolla Wild Horse Museum in Corolla offers an activity that lets kids paint a wooden horse to take home or leave hanging on a tree for all to see.
Indoor Play
OBX Bowling Center, Nags Head. (252) 255-1187
OB-Xscape Rooms, Southern Shores. (252) 564-9636
Destination Fun Laser Tag, Nags Head. (252) 715-0949
Turf's Up Indoor Sports Complex, Kitty Hawk. (252) 715-5820
Playgrounds
If the kids still have tons of energy, a stint at a playground can always save the day.

Corolla: Next to Twiddy & Company Realtors at Schoolhouse Lane
Duck: Duck Town Park
Kitty Hawk: Woods Road
Kill Devil Hills: West Hayman Street; Dare County Family Recreation Park, Mustian Street (behind Outer Banks Brewing Station)
Nags Head: West Barnes Street, Dowdy Park 
Manteo: Waterfront, near Roanoke Marshes Lighthouse; Old Swimming Hole next to the N.C. Aquarium on Airport Road
Rodanthe: Rodanthe Community Center, Myrna Peters Road
Buxton: Fessenden Center
Ocracoke: Behind Ocracoke Schoolhouse
Skateboarding
Island Revolution Skatepark in Corolla is a great place to spin your wheels. Call (252) 453-9484. Kitty Hawk Skate Park is on West Kitty Hawk Road. Call (252) 261-3552. Aviation Skate Park is on Veterans Drive in Kill Devil Hills. Call (252) 449-5300. The Outer Banks Family YMCA in Nags Head has a skateboard park, and you do not have to be a member to use it. Call (252) 449-8897. The Town of Manteo's Skate Park is  behind the College of the Albemarle campus. Hatteras Island has a Skate Park at the Fessenden Center in Buxton. Call (252) 475-5650.
More to Do
Need more ideas? No worries! OuterBanksThisWeek.com has you covered. Click here to find hundreds more things to do!