Waves, NC 
— The Appropriate Namesake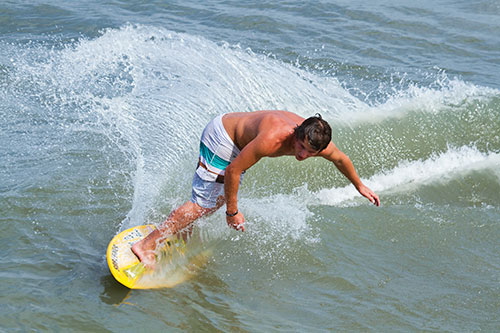 You'll hardly notice when you've left Rodanthe and entered the village of Waves, NC. There are no signs delineating the tiny village's boundaries. One of three villages on the Chicamacomico Banks and formerly known as simply "South Rodanthe," Waves Outer Banks got its name in 1939 when the village got its post office. The postal service was notorious for changing names of locations, and it is supposed that Waves, NC, got its name from the obvious ocean reference. Other historic names for this village have included South Chicamacomico and Southern Woods.
Of course, it's logical that with a name like Waves, surfing might play a major role in defining Waves Outer Banks recreation. The earliest Hatteras Island surfers found boards in 1962 and had the island's breaks entirely to themselves. Buxton resident John Conner joined them in 1964. Conner remembers surfing in a sweatshirt and long pants when the water got cold because they had no wetsuits then. By the mid-1960s, surfers from Virginia Beach had discovered Hatteras Island. Conner opened the island's first surf shop in a mobile home in 1968. In 1969, Surfer magazine did a feature on the waves of the Outer Banks, and that was the beginning of it all (the beginning of the end, said local surfers who were used to having the place to themselves). Hatteras Island Surf Shop opened in 1971 and is still a gathering place for the surf crowd.
Kiteboarding is King in Waves, NC
That was then, this is now. Enter kiteboarding. Waves, NC, is now known far and wide as the epicenter of this wild, wind-driven sport and there are outfitters with kiteboarding campuses that can get you on the water, offer camps to learn the sport, feed you and house you.
Waves Outer Banks vacation rental companies and small motels can also house you, in whatever style you're accustomed to. And, we should give a nod to the ancient sports of beachfront sitting, reading and shell hunting — all part of the appeal of a Waves, NC, vacation due to the lovely beaches this area is also known for. Rest assured, too, that during the busy season, the Waves restaurants will keep you well-fed and fueled.