Southern Shores, NC 
— Quality Over Quantity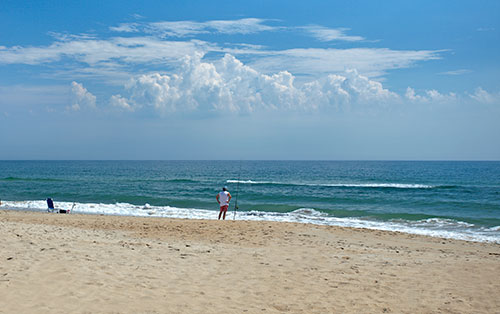 The Town of Southern Shores, NC, situated between Duck and Kitty Hawk, is predominantly residential. It's made up mostly of year-round residents, but the town welcomes vacationers with nice accommodations near the ocean and a paved biking/walking trail that extends the length of the town. Southern Shores Outer Banks was one of the first planned developments on the Outer Banks, and many wish that the developers who came after would have taken extensive notes from this area.
With much of its natural vegetation left intact, Southern Shores, NC, is a beautiful town. On the west side of town, a dense maritime forest of live oaks and pines makes for a cool, shady area that feels far from the ocean. Town leaders have maintained a quality over quantity approach to the additions that have come through the years, so your experience of driving through the quiet, back roads that wind throughout the town is much like it was several decades ago. Martin's Point, a gated development located right before the bridge to Currituck County, followed in the footsteps of consciously blending the natural environment with high-dollar houses. Southern Shores Outer Banks is home to an elementary school and one of the best Outer Banks golf courses, Duck Woods.
Southern Shores Recreation — Golf and Water
Southern Shores Outer Banks recreation, like much of the area, focuses its attention on the water. The Currituck Sound and the tributaries that flow into it provide gorgeous waterways for kayaking, and sailboats and motor boats dot the sound on every good weather day.
Southern Shores, NC, offers a handful of shops and restaurants. Some may appreciate knowing that the only Starbucks on the Outer Banks is located here. There's also a Food Lion, CVS, UPS and several other shops, but its bordering towns offer many more options for shopping and dining. In fact, right across the street, which is technically Kitty Hawk, you'll find Wal-Mart, Harris Teeter, Dollar Tree and other very familiar names.
The Town of Southern Shores, NC, features the multi-storied, oceanfront Hilton Garden Inn, a very popular Outer Banks hotel. It's located right beside the Avalon Pier, an Outer Banks landmark.