Frisco, NC -- Historic Home to Native Americans
Frisco, NC, was called Trent by its first English settlers. Today, Frisco Outer Banks is a small village without a lot of visible historic landmarks, but the history of the area dates back to the Hatteras Native Americans, and some refer to part of this island as Indiantown. At the western edge of the Buxton Woods Maritime Forest, this area is believed to be the border of the Hatteras natives' living area. A great shell midden, or oyster shell and trash repository, was found here at Brigand's Bay (formerly known as King's Point). The midden, which is said to be several football fields long, led some archaeologists to believe that as many as 5,000 natives once lived on the island.
Frisco Outer Banks used to have three large sand hills, called Stowe's Hills, as a landmark. Later, the dominant feature of the landscape was a big hill called Creed's Hill. A life-saving station was established at Creed's Hill in 1879. Longtime residents say they remember the woods in and around Trent being extremely thick and that delicious wild grapes grew on vines in the woods. The post office was established at Trent in 1898, but for some reason the postal service changed the name to Frisco, NC. It is believed that Trent was too close in spelling to the Trenton post office on the mainland.
Uncomplicated Hatteras Vacationing in Frisco, NC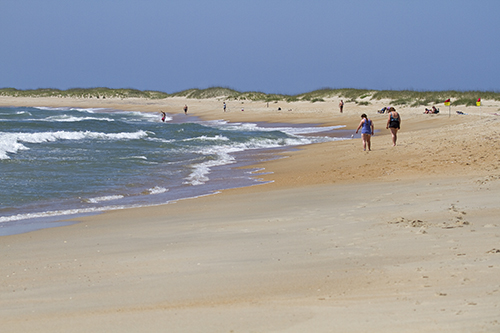 While current-day Frisco Outer Banks is predominantly residential, it does offer two distinct points of interest – the Billy Mitchell Airstrip (named after the world-renowned Navy airman) and the Frisco Native American Museum. Air traffic isn't exactly steady here, but the airstrip is the site for scenic air tours that give you a perspective of just how skinny this strip of land known as Hatteras Island is, and the museum tells the story of the thriving Native American culture that called this island home long before we did. As far as Frisco shopping goes, the most popular draw is galleries – there are lots of really good ones, but you'll also find tackle stores, small gift shops and a shop that sells all kinds of fudge and other sweets…it's a very popular place. If you want to stay here, your Frisco, NC, accommodations options are two campgrounds, both very popular in summer, so plan way ahead.
Interestingly, the Frisco, NC, restaurant scene sort of shines! One of the longest-established Outer Banks seafood restaurants is here as well as a pizza shop that doubles as a bakery that has welcomed guests for decades. Recent additions are a great raw bar and grill, a fantastic sandwich shop and several comfy coffee shops.